There's no denying that exercise is good for us. Exercise can help increase our metabolism, boost our energy, keep our cardiovascular system  and bones healthy, and help us maintain or lose weight while keeping our muscles strong and toned. It can also improve our immunity, keep us sleeping soundly, and even encourages the body's release of chemicals called endorphins, which can relieve stress while easing anxiety and pain. And lastly, combined with a proper diet, exercise can help you fit into your favorite pair of jeans again. Not too bad.
So if exercise is so good for us, why aren't we doing more of it? A 2018 study from the CDC's National Center for Health Statistics (NCHS) found that almost 80% of adults in the United States aren't getting nearly enough exercise needed to stay healthy. Another study in 2009 found that 50% of those who begin an exercise program, end up quitting within the first 6 months. Anyone who's ever worked out, knows how easy it is to find excuses to do anything but. And the longer you put fitness on the back burner altogether, the harder it is to get back in the habit.  
There's no doubt if you stay active, your mind and your body will reap the benefits. But if you're looking to start getting fit, you're definitely going to need tools to keep you on track (and I'm right there with you).
Here are some tips and tricks to help motivate you to start exercising consistently, and keep you excited to keep going: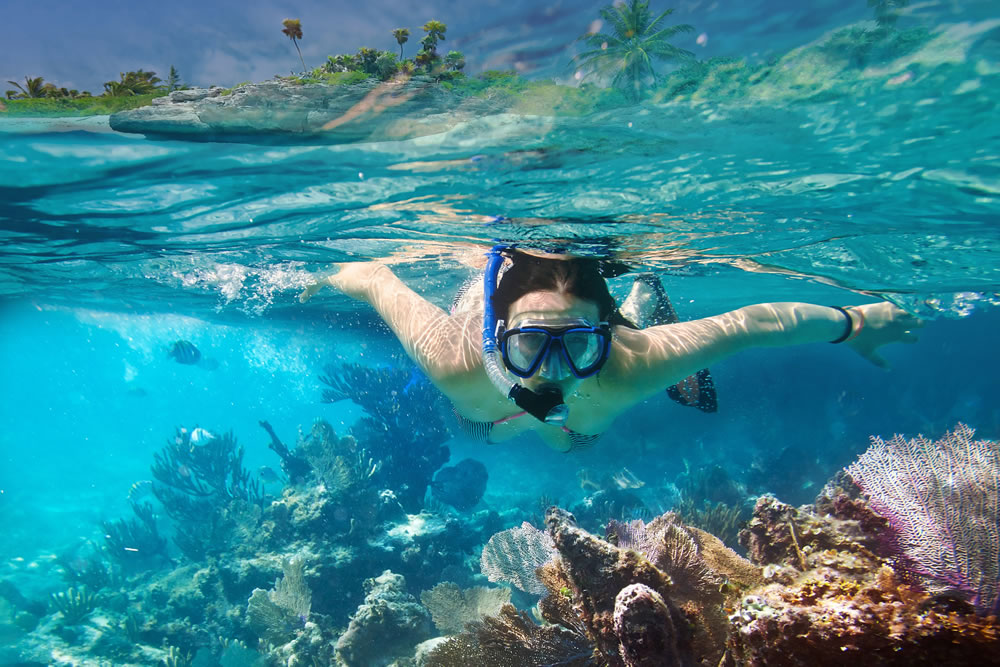 1. Try New Things and Find Activities You Actually Enjoy
One of the best ways to set yourself up for fitness success is to find styles of exercise or activities that you actually enjoy. With so many ways to get active, there's no reason not to be able to find something you like. Try walking, biking, hiking, tennis, kayaking, swimming, dancing, kick-boxing, karate, yoga or pilates. Better yet, find a few activities you like and rotate them into your schedule to stave off exercise boredom. You'll be more likely to keep going if you do. If you don't know what you're currently into, experiment until you find a routine that's a right fit for you. And if you like to travel, that can be a perfect time to try new activities as there's usually always something to do. For example, one of my favorite activities when I travel somewhere tropical is snorkeling, which is super fun, but also involves lots of swimming. Love what you do and you'll never want to quit.
2. Have Seasonal Fun With Your Fitness
New seasons always bring us new opportunities to keep moving. Spring and summer are great for swimming, paddle-boarding, kayaking, surfing, golfing, and gardening. In the winter, activities like downhill and cross-country skiing, ice-skating, and sledding are fun ways to burn calories. Hiking can be great anytime of year and seasonal household chores like shoveling snow, raking leaves, or mowing the lawn provide a great workout without having to even leave your property.
3. Join a Local Club or Take Group Classes
Once you've found an activity you enjoy, joining a local club can be another great way to stay motivated. Not only do clubs usually schedule events that can help keep you on track, but you'll also be able to meet new friends who share your fitness interests. In my area there are hiking clubs, cycling clubs, and kayaking clubs, just to name a few. If you don't know what type of activity clubs are available in your area, you can head to meetup.com to find local groups that fit your interests.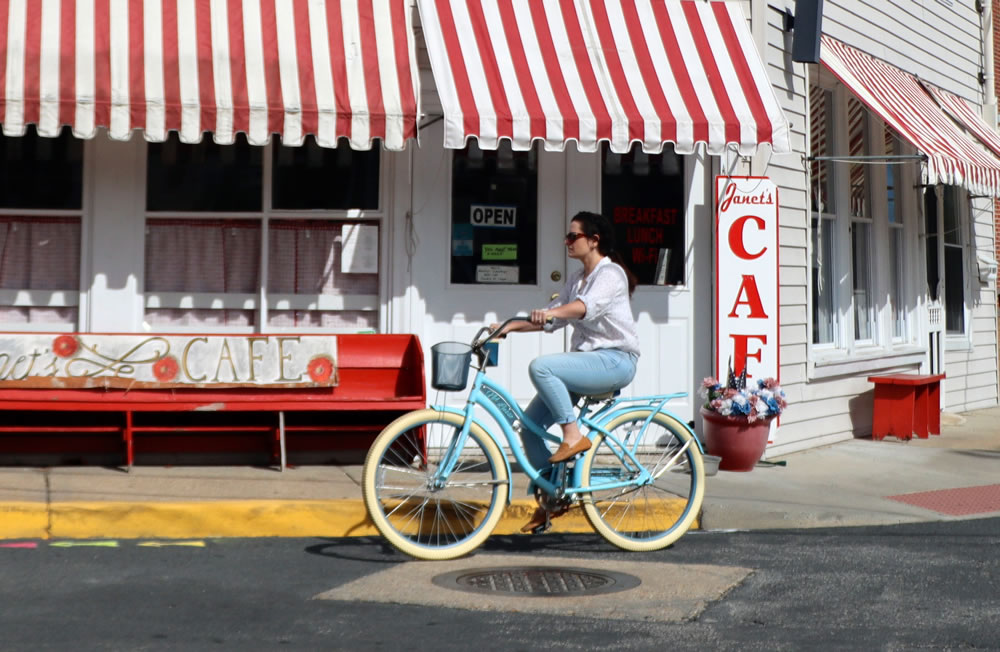 4. Take Your Fitness Outdoors
Part of staying motivated to workout is keeping your routine fresh. And getting active outside can give you the change in scenery you need to help keep you motivated. Exercising outdoors can help increase our vitamin D levels, while boosting energy. Time spent out in nature has also been linked in studies to lowering blood pressure, heart rate, and cortisol (our stress hormone), while promoting calmness, positivity, and focus. Best of all, it's free! Walk your dog, bike, jog through your neighborhood or take your exercise routine to a local park. You can also find some local trails to hike or bike on. Live near a beach, lake or river? Swimming and kayaking are also great options to get active outdoors.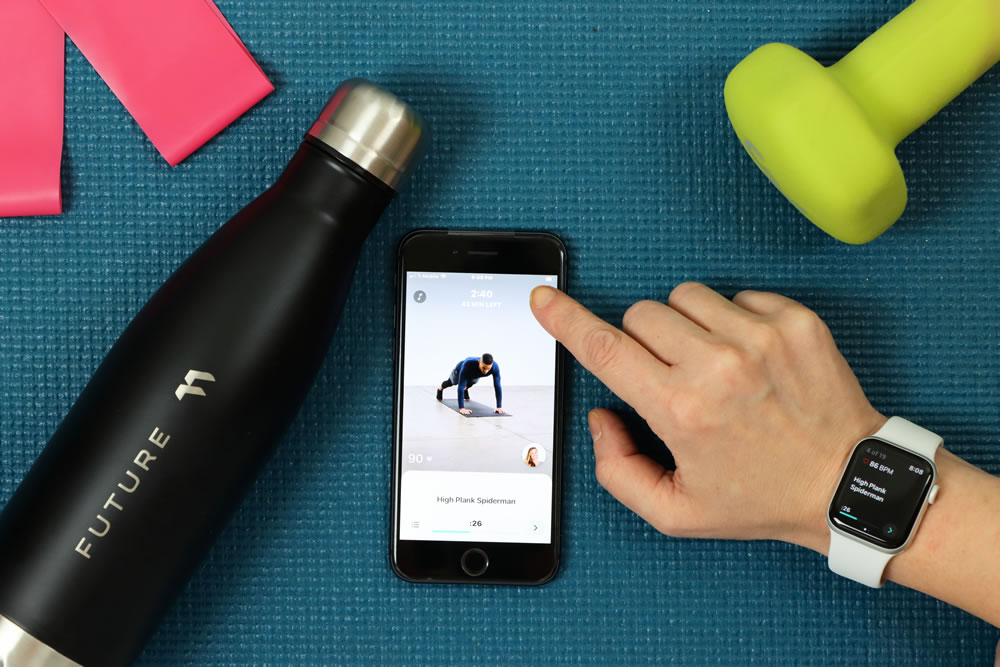 5. Find Ways to Stay Accountable
Sometimes it's just easier to skip exercising and eat tacos and ice-cream instead. But you're much more likely to stay active and reach your fitness goals if you find a way to stay accountable. That can mean finding a buddy to work out with who wants to get fit too, but it may be hard to find someone with the same goals and schedule as you. Your next best option might be to find a trainer.  But what if you're not interested in stepping back into a gym right now? I totally get it.
That's why downloading a fitness app can be a great option. Not only can they help keep you accountable, but they're convenient no matter what your schedule. For me, using the Future Fitness App has been a game changer. Available in the Apple store, Future is the most effective thing that has kept me consistently motivated to stay active, want to get stronger, and achieve fitness goals I thought were only for Instagram fitness models. It also did what I thought was impossible: it has me actually excited to work out everyday. How did they do it? Having Future is like having a personal trainer in your pocket. Once you sign up, you'll be able to choose and work with one of their elite coaches.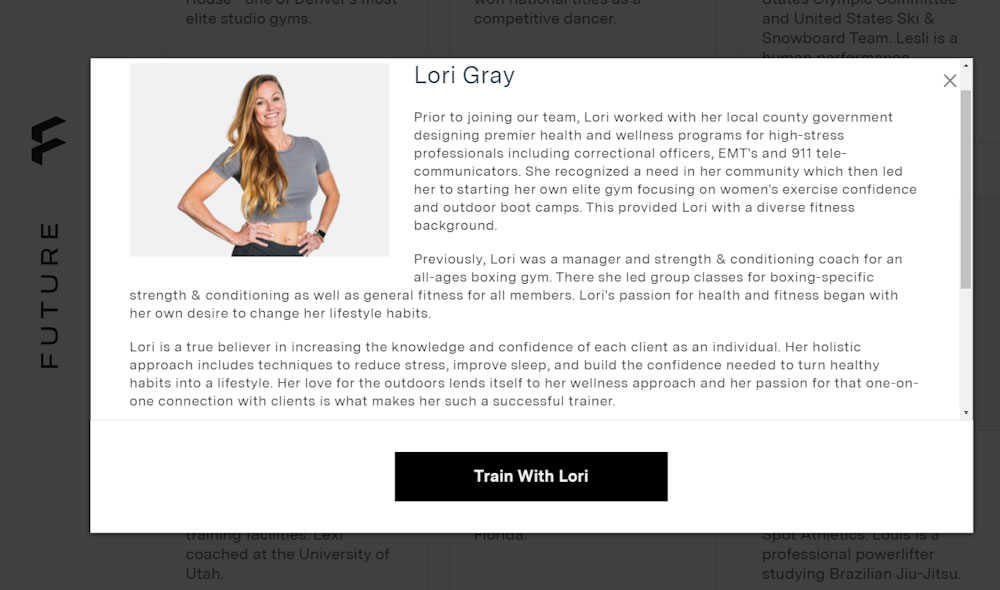 After a FaceTime meet and greet with your coach to discuss your goals, they will create a personalized weekly fitness routine for you based on the exercises that you like to do. My routines are always fresh and are a mix of Pilates, boxing, yoga, and weight training. But what really sets Future apart from other fitness apps is the relationship you build with your coach. Each day they check in with you to track your progress and keep you motivated to achieve your fitness goals. And it's achieving those goals that will motivate you even further. Plus, what's even better is that you don't need a gym membership and you can literally take it with you anywhere.
Last winter the thought of exercising for me was torture, but Future has me working out like never before, and loving it. Personal accountability seems to be the thing that's clicked for me when it comes to staying motivated to exercise, and it might just be for you to. See our complete review of Future here.
6. Get Competitive and Join a Fitness Challenge
Nothing will give you that extra push you need to start exercising or reach new fitness goals like joining a fitness challenge. Joining a fitness challenge combines the benefits of goal setting with a bit of competition. Pinterest and Instagram are great places to search out fitness challenges.  
7. Music Can Keep You In the Mood
When you're working out there's nothing that can get you moving like some great music. And studies have shown that music not only helps boost your endurance and exercise performance, but it can also help you fight off exercise fatigue. A study published in the journal Psychology of Sport & Exercise, found that upbeat, motivational music gave participants higher heart rates, better performance and an overall feeling of enjoyment than if they had listened to a podcast or no music at all.
You can easily make your own workout playlists, but there's also tons of great ready to go playlists on apps like Spotify, Pandora and YouTube. Another reason I love Future Fitness App is that they have a variety of awesome playlists curated within the app to help keep you pumped through your workouts. 
8. Keep Things Fresh and Make Exercise More Fun
One of the best ways to get through a workout is listening to some upbeat tunes. But, if you're exercising at home you can also watch a movie or throw on that T.V show you've been meaning to watch. This is best done with lower impact exercises like walking on a treadmill, riding a stationary bike or a simple floor leg or a routine, where you don't require too much focus. The time will just fly by.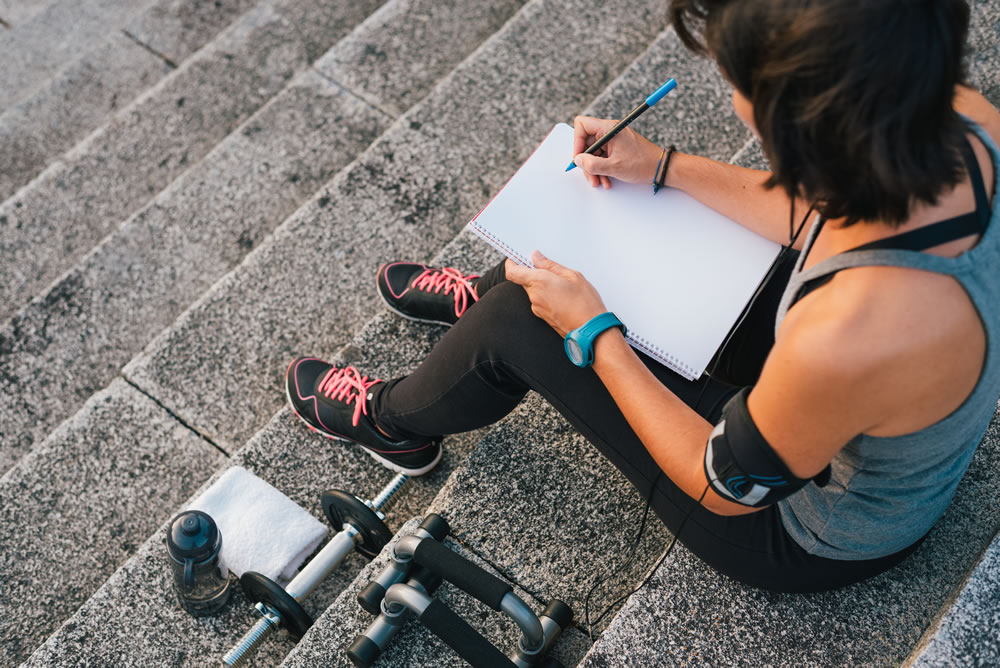 9. Write Down Your Fitness Goal and Keep Track of Your Progress
Something about putting pen to paper and seeing your goals written out somehow makes them more tangible and achievable. And fitness goals are no different. Writing out some goals can also serve as another channel of motivation, while they help you visualize what you want to achieve.
When writing out your fitness goals, try to make them meaningful, realistic and measurable. This way you can keep track of your achievements and identify spots you might need to improve.
 Some example fitness goals to start out with can include:
Doing something active for X days per week

Getting enough strength to do 1 pull-up

Doing 20 pushups

Taking a yoga class 2x per week

Wanting to run a 5K, half-marathon or marathon

Build up muscle and decrease fat % (weight can increase when building muscle)
You can also include healthy lifestyle goals as well like drinking more water, reducing refined sugar, and eating more veggies. Once you start seeing improvements and start hitting your goals, you'll be more motivated to keep going. Just know that it's perfectly fine for your goals to change over time as you evolve on your fitness journey
10. Don't Overtrain or Push Yourself Too Hard
One of the quickest ways to get discouraged is by overtraining or forcing yourself to workout when you're not well enough or your body needs time to heal. This isn't the same thing as making excuses not to workout, it just means that if you feel like you're on the verge of injuring yourself, you'll be doing more harm than good. Resting can be the difference between feeling encouraged to keep going, or pulling a muscle that can keep you from exercising altogether. If you feel like you're too sore to workout but still want to move, try gentle movements like walking or yoga. 
11. Get Some Wearable Technology
Buying something new is not always a sustainable way to keep you motivated to stick with a fitness routine. Any of us can look to a closet stuffed with dusty ab rollers and fitness DVD's to know that's true. But fitness watches (AKA wearable technology) can be an exception to that rule to keep us truly motivated. The number #1 benefit of wearing a fitness watch is that it's another way to help keep you accountable and motivated. Besides telling time, fitness watches can track your steps, daily activity, calories burned, heart-rate and some can even track your sleep patterns. Many fitness trackers have built in workouts, tips, and apps to help set realistic goals for yourself.  Studies have found that even just wearing a basic pedometer can help boost activity levels by 30 percent. 
Future Fitness Watch Tip: If you try the Future Fitness app, we suggest using an Apple Watch. Feedback from the watch can be sent to your trainer after your workouts so they can see how you're performing and to plan your workouts accordingly. I wear mine everyday and love using it to track my progress and see my goals achieved.
12. Lay Your Fitness Clothes Out Before Bed
Putting your workout gear on first thing in the morning can help motivate you to get your workout done first thing. It can also help you fit exercise into your day, especially if you often get too tired or busy later in the day. This includes having your fitness watch charged up, if you have one.
13. Reward Yourself
When you're reaching some of your fitness goals, there's nothing wrong with rewarding yourself as an incentive to keep you moving. Real changes in your fitness can take time, but that doesn't mean you aren't crushing mini goals along the way, which can be just as important as the big ones. And that deserves a reward. When writing out your goals, also include a reward you'd like once you achieve it. Rewards can be anything, like a cheat day or shopping for some new clothes.
14. Don't Put Too Much Pressure on Yourself
It sounds cliché, but fitness and getting healthy is a journey. Magazines, media and companies selling weight-loss products have conditioned many of us to think it's normal to lose 10-20 lbs in a month, and have a bikini body in less than 30-60 days. It doesn't usually work that way. 
There's no doubt that if you put in the time to work out and stay dedicated you will see results. But when we put too much pressure on ourselves to look a certain way, by a certain time, or we have unrealistic expectations,  disappointment can set in. This is where we can lose our motivation to keep going and then give up. Have fun with your fitness, and you'll stick with it. And the benefits like having more energy, getting stronger, and your pants fitting better will give you all the motivation you need to keep working out.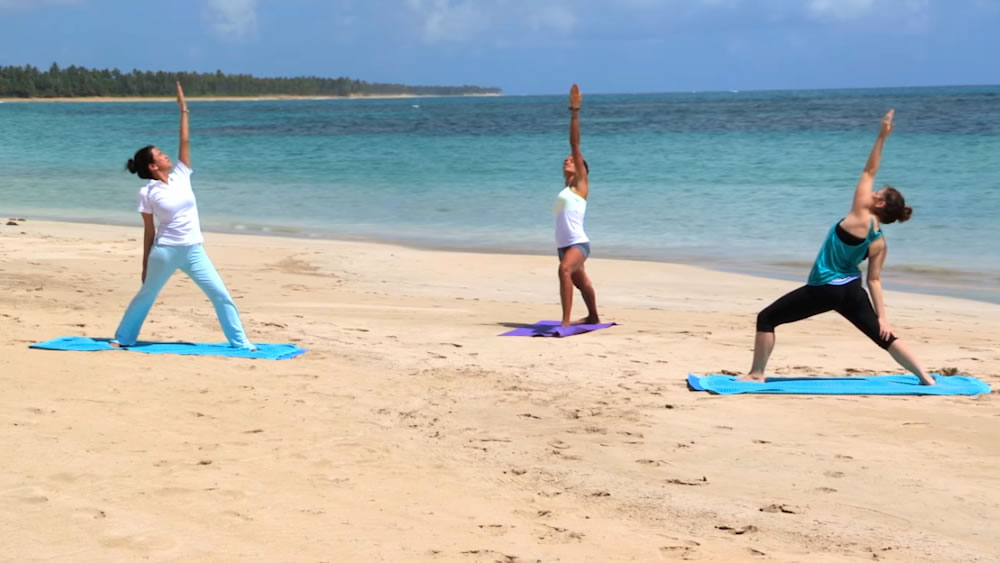 15. Try a Fitness Retreat or Boot Camp
If you love to travel and have the time and money, a fitness retreat is a great way to focus on your health and fitness while also getting some vacation time in. No you won't be drinking endless pina coladas by a beach bar, but you will have a chance to focus on exercise and staying active in a way you might not be able to at home. No matter what you like to do, or whether you're into being on the beach or in the mountains there's a retreat for you. Fitness or wellness retreats are also a great place to meet new friends and relieve stress while taking in the sights and sounds in a beautiful place. The new skills and positive experiences you have on your fitness retreat can help motivate you when you're back home. 
16. Start Slowly. Accept There Might Be Some Growing Pains, But the Journey Is Worth It
When we first start an exercise routine we can sometimes do too much too fast. For me that meant days of soreness and then feeling disappointed because I couldn't keep going the way I wanted to. My advice is to take things slowly. If you are doing intense exercise right from the start, know that it's healthy and normal for your body to get accustomed to regular exercise again.
17. Make a Fitness Vision Board and Collect Some Inspirational Fitness Quotes 
Finding some inspirational fitness quotes and images that you connect with is another great tool to help keep you motivated to work out. Try changing the screensaver on your phone or creating a Pinterest board. Etsy has some really awesome and inexpensive downloadable fitness art that you can print out at home and hang on the fridge, place by your bedside, or at your desk to be reminded of what you're trying to accomplish
Want to Get Fit and Try Future for Yourself?
As part of our audience, you can try Future now with these 2 offers.
💡 Limited Time Deal 1 ➡ SAVE $130! Your first month of Future is just $19. Cancel anytime. 
💡 Limited Time Deal 2 ➡ Get 50% off your first 3 months!
Plus, Future offers a 30-day risk-free trial. So, pick your coach and start your fitness journey now!
 😎 I've completed over 250 workouts with Future and burned more than 54,000 calories!
Further Reading
➡ Learn more about the benefits of online training
➡ See how to stay motivated to exercise
➡ See our complete review of Future
➡ See how to lose the last 10 pounds fast
➡ See how to get fit at home for beginners