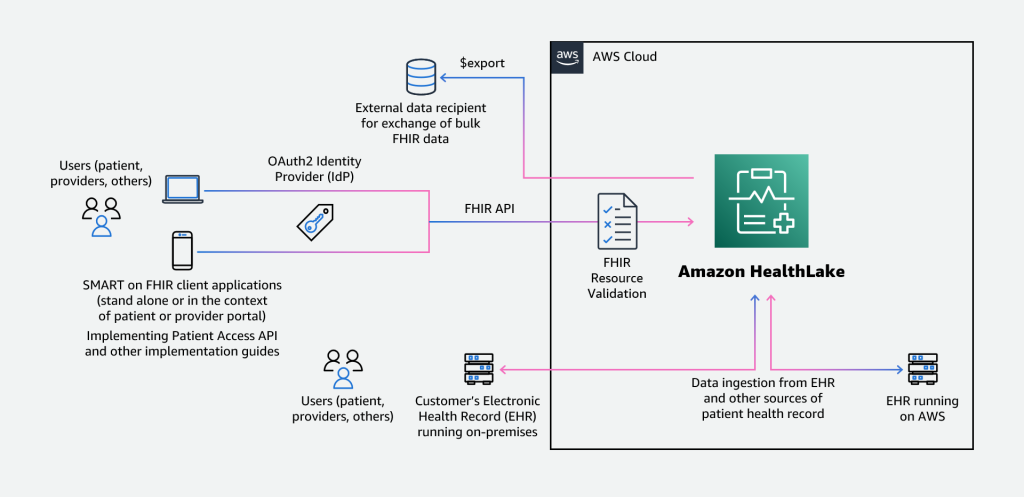 What You Should Know: 
AWS announced the addition of three new capabilities to Amazon HealthLake's managed FHIR API offerings. 
The launch of these three new capabilities benefits EHR system providers, ISVs, SIs, and IT teams working with healthcare organizations, by allowing them to simply leverage managed FHIR APIs to build interoperability applications or systems that conform to ONC and CMS patient access rules, reducing the burden of building and managing the underlying FHIR APIs and data store. 
Amazon HealthLake's New FHIR API Offerings
1. SMART on FHIR
SMART on FHIR provides reliable and secure authorization for applications integrating with the OAuth 2.0 standard. Customers and partners building SMART on FHIR applications can control access to data and deploy fine-grained access control to ensure authorized access to resources. ISVs can empower a community of third-party developers building clinical applications that enhance user experience without compromising security. App developers can innovate and provide their users with the right information at the right time, such as notifying clinicians when patient laboratory results become available so that they can provide better care.
2. Patient Access API
Customers can use Amazon HealthLake to share data securely by implementing APIs like Patient Access API to build patient and provider facing applications that foster information exchange and improve patient care while reducing costs. Amazon HealthLake validates FHIR resources according to US Core, CARIN for Blue Button profiles, which enable a broad set of interoperability capabilities. ISVs and their customers can take advantage of these APIs and FHIR resource validation to facilitate efficient exchange of health information to coordinate care, provide timely and correct reimbursement, and empower patients to fully participate in their care.
FHIR Bulk Data Access APIs
When customers need to transfer a large number of resources, like facilitating payor to payor data exchange, they can utilize Amazon HealthLake's FHIR Bulk Data Access API to securely export data for all patients, a subset of patients, or all FHIR data stored in Amazon HealthLake. Payors can take advantage of this feature to transmit large data sets to support population health management, and health systems can use Bulk Data Access to populate their analytics and research data stores to inform better clinical decisions.
Availability
Amazon HealthLake SMART on FHIR, patient access API, and FHIR bulk data API export capabilities are currently available in preview.These new capabilities will be available in all regions where Amazon HealthLake is generally available, including US East (Northern Virginia), US East (Ohio), US West (Oregon), and Asia Pacific (Mumbai) regions with revised pricing.