Better Living has partnered with Ritual, but only endorses products we love and believe in.
Ritual is a subscription wellness company that offers clean, high-quality, transparent and research-backed multivitamins and supplements. But is the hype worth the cost?
---
We trust our multivitamins and supplements have high-quality ingredients and the formulas are good. And we cross our fingers they're working. But do we really know what's in them? Not always. 
Researchers have found staggering evidence that what's on our supplement label doesn't always match what's inside. For example, a recent study by the GAO (Government Accountability Office) found that two out of three memory supplements they tested contained no active ingredient and one contained unknown chemicals (1).
A July 2023 research letter published in JAMA Network Open reported that out of 57 sports supplements tested (2):
89% of products tested had labels with incorrect quantities of listed ingredients. 

40% had undetectable amounts of ingredients listed on the labels.

12% contained an ingredient banned by the FDA.
How can this happen?
The problem is the FDA classifies supplements as food and doesn't regulate them as strictly as pharmaceuticals (3). And manufacturers of supplements often add extra and unnecessary ingredients or use cheap forms of nutrients.
Common ingredients added to vitamins and supplements include:
For an industry promoting wellness, it's all a little icky. 
That's why, as a wellness obsessed person on a quest for my ideal multivitamin, I got excited when I learned about Ritual. 
Here's why: Yes, they're social media famous for their pretty vitamins, sunshine yellow branding and have a dedicated cult following. 
But that's not why I got excited.
Ritual is redefining the standard of multivitamins. And they're taking transparency to another level. 
Keep reading to see how Ritual is working to clean up multivitamins and if they're worth a try.

What is Ritual? 
To understand why Ritual does things the way they do, it's important to know how it started.
In 2016, Ritual's founder Katerina Schneider was pregnant with her first child. Frustrated when she found her prenatal multivitamins had ingredients she was trying to avoid, she was inspired to start Ritual.
In a recent interview Katerina explained, "I wanted to create a multivitamin that I knew would work—not just for me, but for everyone. It needed to use clean, most essential key ingredients in their easily absorbable forms." 
Today, Ritual offers clean, high-quality science-based multivitamins to support a variety of life stages (women, men, prenatal, postnatal, etc.). 
And their labeled ingredients are traceable to their final place of manufacture.
Here's What Sets Ritual Apart:
Science-backed formulas and ingredients.

A first of its kind visible supply chain with every ingredient Made Traceable

®

, they showcase each supplier and final place of manufacturing for all active and other ingredients. 

 Third party testing (for heavy metals and microbes).
After I learned more about how Ritual works, I wondered why there haven't been multivitamins like this before? 
Besides multivitamins, Ritual also offers a probiotic, and a plant-based protein powder (also clean). Check out the review of those below.

What Makes Ritual Vitamins Unique? 
Let's be real. Ritual isn't the only company making clean multivitamins. But their sky-high standards are the driving force behind the products. And I don't think anyone is doing it on the level they are.
They're also really pretty to look at in a futuristic I-need-take-this-now kind of way.
Here's why I think they're definitely worth a try:

1. They're transparent about their suppliers and their ingredients are Made Traceable® It's The First of its Kind. Ritual is Setting a New Standard in the Supplement Industry.
I don't think knowing where the ingredients in our vitamins are coming from should be a unique feature for a supplement company. But it's not even close to an industry standard. 
Ritual's transparency, called Made Traceable ®, is the first of its kind. They share the ingredients supplier and final place of manufacture for their labeled ingredients, and only partner with suppliers that meet their high standards.
The transparency is refreshing!

2. Ritual's Formulas are Designed to Help Fill Nutrient Gaps. They Don't Load You Up With Tons of Nutrients You Don't Need.*
Ritual's philosophy is that multivitamins should support a healthy diet, not replace it. Depending on the formula, each multivitamin capsule contains eight to fifteen key nutrients.
In the past I thought the more nutrients the better (hello 12,000% vitamin B12!). But some research shows that high amounts of certain vitamins can build up in the body over time, causing toxicity in certain cases (12, 13, 14, 15). 

3. You Can Take Their Multivitamins on an Empty Stomach
Ritual's delayed-release capsules are designed to dissolve later in the small intestine, an optimal place to absorb nutrients. I love that I can take their multivitamins on an empty stomach.*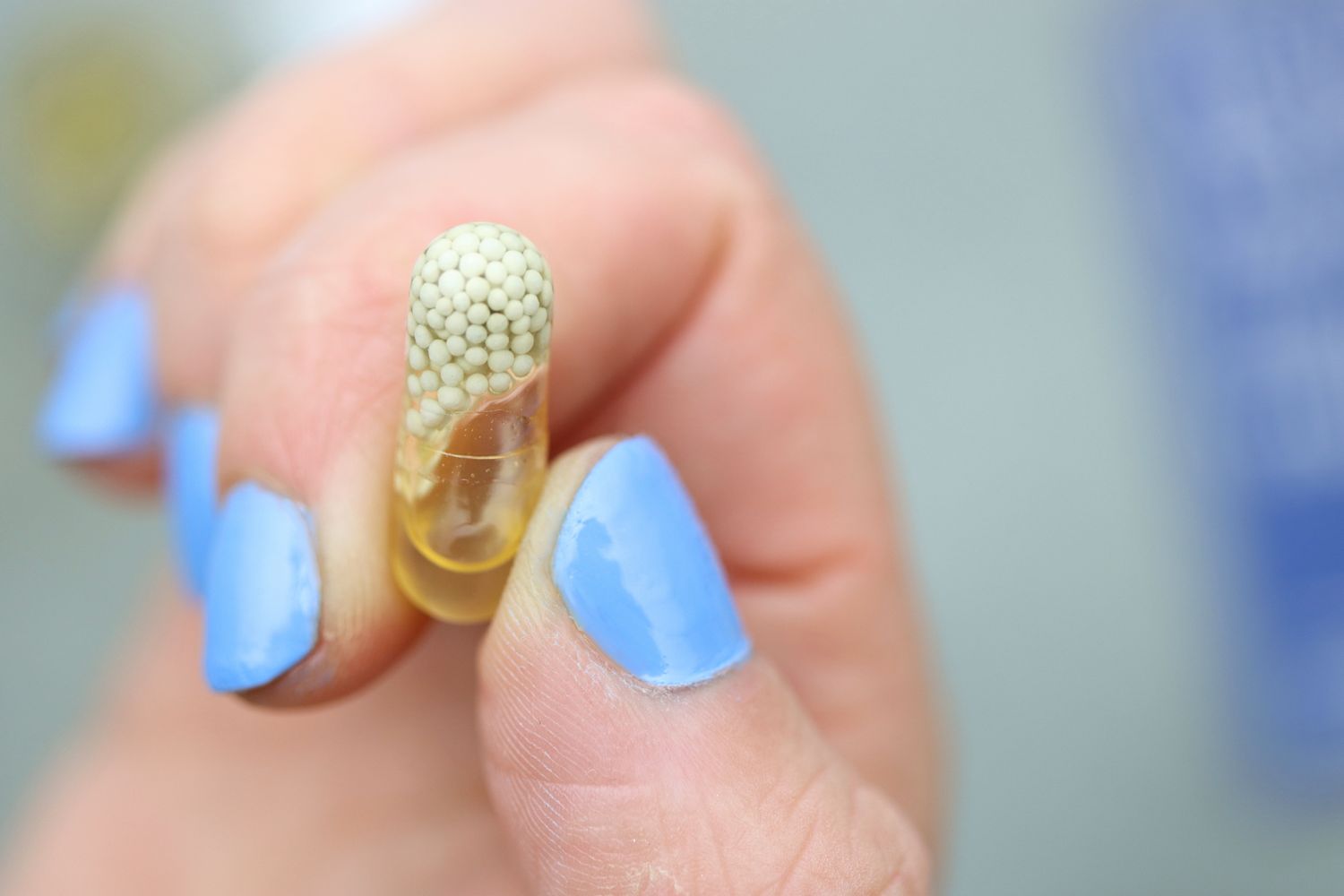 4. Ritual Uses High Quality Forms of Key Nutrients 
Ritual's multivitamins are formulated with high quality nutrients to help fill key nutrient gaps.*
For example:
Most supplement companies use: Folic Acid (a synthetic form) 
Ritual Uses: Methyltetrahydrofolate (the active form of folate). 
Why it Matters: Our MTHFR gene provides instructions for the body to make an enzyme that helps the body process folate (16). However, for many people (including 33% of women), a mutation to this gene called MTHFR makes it challenging for the body to efficiently use this form of folate (17, 18). But those with this mutation can use the active form of folate Ritual uses.
5. Ritual Uses Clean Ingredients and Third-Party Tests (for heavy metals and microbes). 
Ritual provides the receipts to back up their Made Traceable® ingredients.
All Ritual Products Are:
Vegan-friendly*

Sugar-free*

Gluten-free*

Soy-free*

Non-GMO-Verified*

Free from artificial colorants and major allergens. 
Ritual has all its products tested by respected independent third-party labs for heavy metals, microbes, and allergens.
Their flagship Essential for Women Multivitamin 18+ is also USP-Verified, which means they meet the strict set of standards set by the U.S. Pharmacopeia (an independent scientific nonprofit organization). 
A USP Verification ensures product doses and the ingredients in the capsule match the label (19).
According to Ritual's website:
"Earning USP Verification isn't easy, and it's certainly not industry standard—none of the top three bestselling women's multivitamins are USP Verified, which is why it's a big deal that Essential for Women Multivitamin 18+ has made the mark.†"
†Based on the top 3 US women's multivitamin brands by 2019 & trailing 12 month retail sales (through April '20)."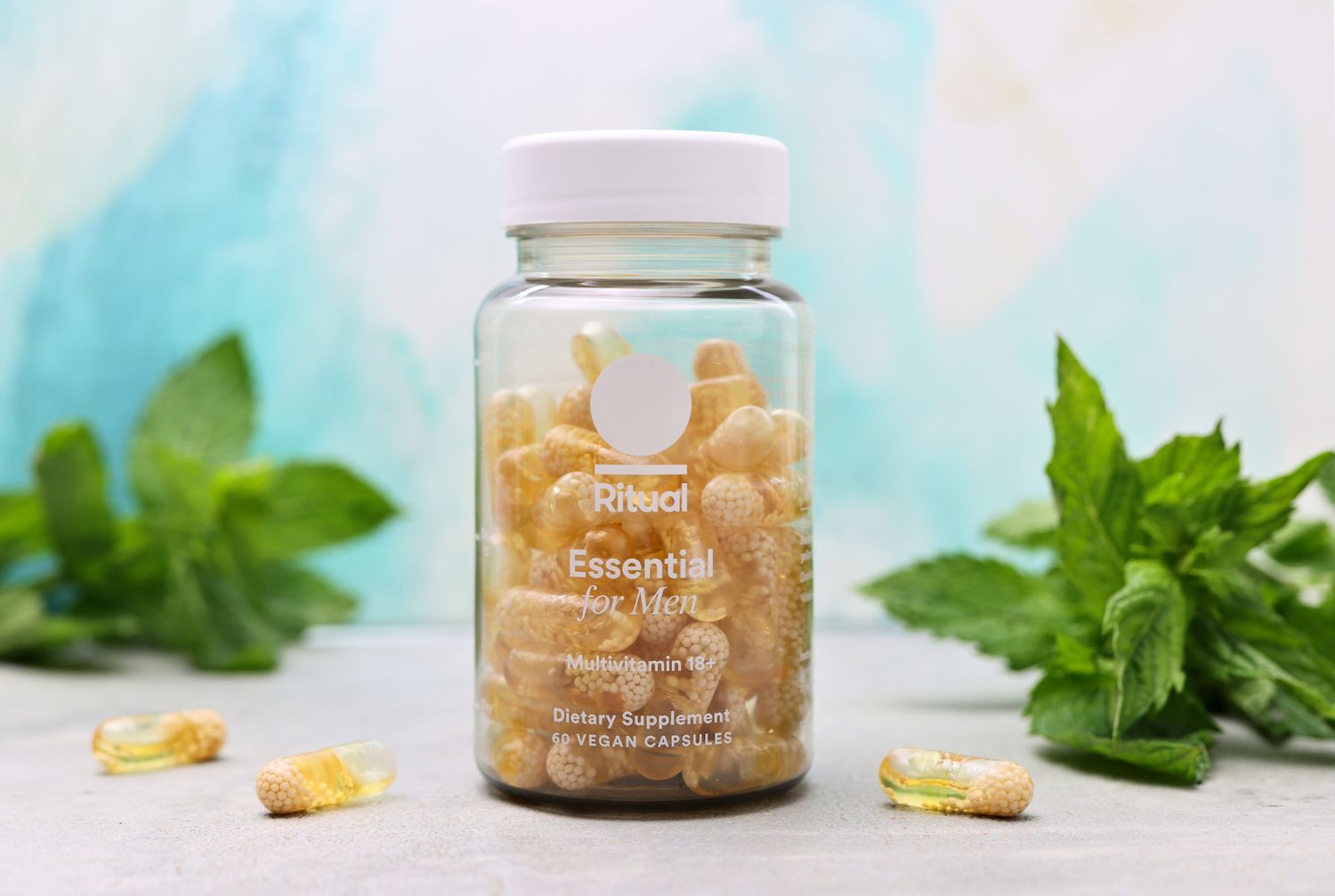 6. They're Obsessive Over The Science 
Ritual's team of in-house scientists sifted through thousands of scientific studies before formulating their products. Pretty impressive!
They also give detailed information about every ingredient, and provide labeled ingredient's source, function, and forms.
Most companies rely on the science that's already out there. But Ritual invested in their own independent university-led 12 week clinical trial to study their popular Essential for Women Multivitamin 18+ formula. 
The findings were published in Frontiers in Nutrition—a respected internationally peer-reviewed journal (20).
7. They're a Certified B-Corp That Cares About Sustainability
Besides making great multivitamins, Ritual wants to do good things. And they're one of the few supplement companies to become a certified B corporation.
I appreciate that 74% of Ritual's packaging is sustainable and their goal is to have 100% sustainable packaging by 2025.
What Types of Multivitamins Does Ritual Offer?
Ritual is slowly releasing new formulas (because they like to get things right). Here are some of their most popular products:
Adult Multivitamins
ESSENTIAL FOR WOMEN 18+ (This is the product that put Ritual on the map)

ESSENTIAL FOR WOMEN 50+

ESSENTIAL FOR WOMEN PRENATAL

ESSENTIAL FOR WOMEN POSTNATAL

ESSENTIAL FOR MEN 18+

ESSENTIAL FOR MEN 50+
Probiotics
SYNBIOTIC+ (a Prebiotic + Probiotic + Postbiotic formula)
Protein Powder
Essential Protein Daily Shake 18+

Essential Protein Daily Shake 50+

Essential Protein Daily Shake Pregnancy & Postpartum

The Ritual Products We Tried
Ritual offers a variety of multivitamins for women and men at different life stages. We tried the Womens 18+, Mens 18+ as well as their gut health formula and protein powder. Check out our thoughts below.
Keep in Mind: Ritual Products are vegan-friendly, soy-free, gluten-free, and non-GMO with no added sugar or sugar alcohols. 
Ritual Multivitamins
The Made Traceable® Nutrients Included: 
Ritual includes 8 to 15 nutrients in each multivitamin formula. Again, these aren't designed to have every nutrient known to man. They're meant to help fill key nutrient gaps in the diet.*
About Their Signature Capsules: 
Rituals multivitamins come with a minty tab in every bottle (a citrus tab is included in bottles of Essential Prenatal Multivitamin).  Their patented beadlet in oil technology looks design-y and cool, but it serves a purpose. It allows Ritual to combine oily and dry ingredients in one capsule.

Ritual Essential for Women Multivitamin 18+ (their flagship product)

 
It has 9 traceable ingredients
Folate:

Contributes to cell division and supports energy-yielding metabolism.*

Vitamin B12:

Contributes to red blood cell formation and supports energy-yielding metabolism.*

Iron:

Supports red blood cell and hemoglobin formation*

Omega-3 DHA:

Brain, vision, and heart health support*

Vitamin D:

Supports immune function and bone health*

Vitamin K2:

Supports bone health*

Boron:

Helps support bone health*

Vitamin E:

Antioxidant support*

Magnesium:

Supports bone health.*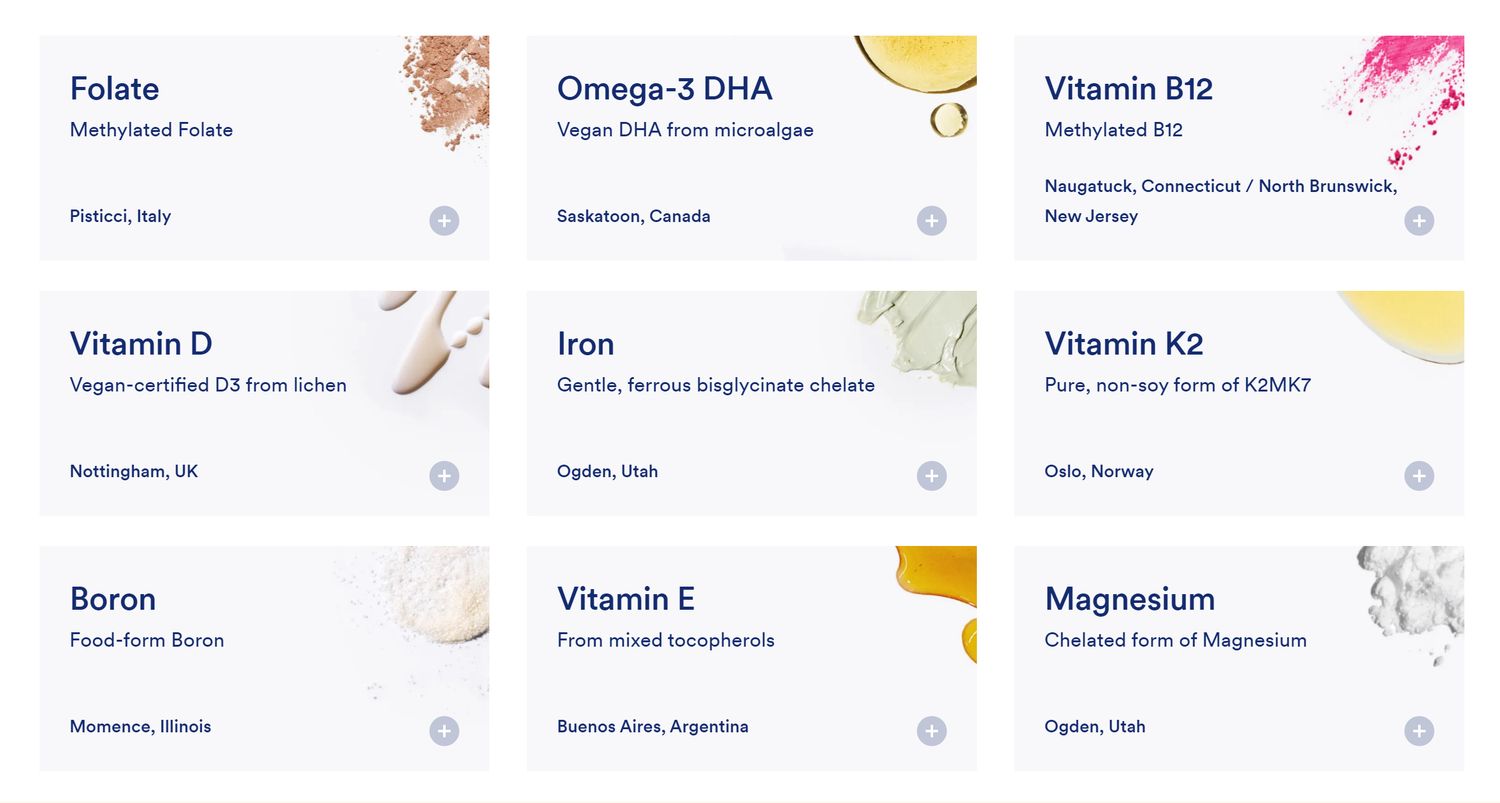 Vegans will love that Ritual uses Vitashine™, a certified-vegan D3 ingredient with the final place of manufacture in the UK. It's also USP Verified, which means you can trust what's on the label is what's in the product.
Ritual's peer-reviewed and published clinical study (the one we referenced before) found after 12 weeks Essential for Women 18+*
Increased Vitamin D levels 43%, significantly greater than placebo.*

Increased Omega-3 DHA levels 41% significantly greater than placebo.*
Getting a good source of omega3-s is especially important because over 68% of adults in the U.S. aren't getting enough (21). 
According to research published in the National Institutes of Health database, 43% of Americans are exceptionally low in vitamin D (22).
Price: $33
Dosage: 2 capsules
Capsules Per Container: 60
Servings Per Container: 30
Key Ingredients: Folate, vitamin B12, vitamin D, iron, vitamin K2, vitamin E, boron, magnesium, omega-3 DHA
👉 Try Ritual Essential for Women Multivitamin 18+
🔥Use Code ONBETTERLIVING for 30% OFF at checkout!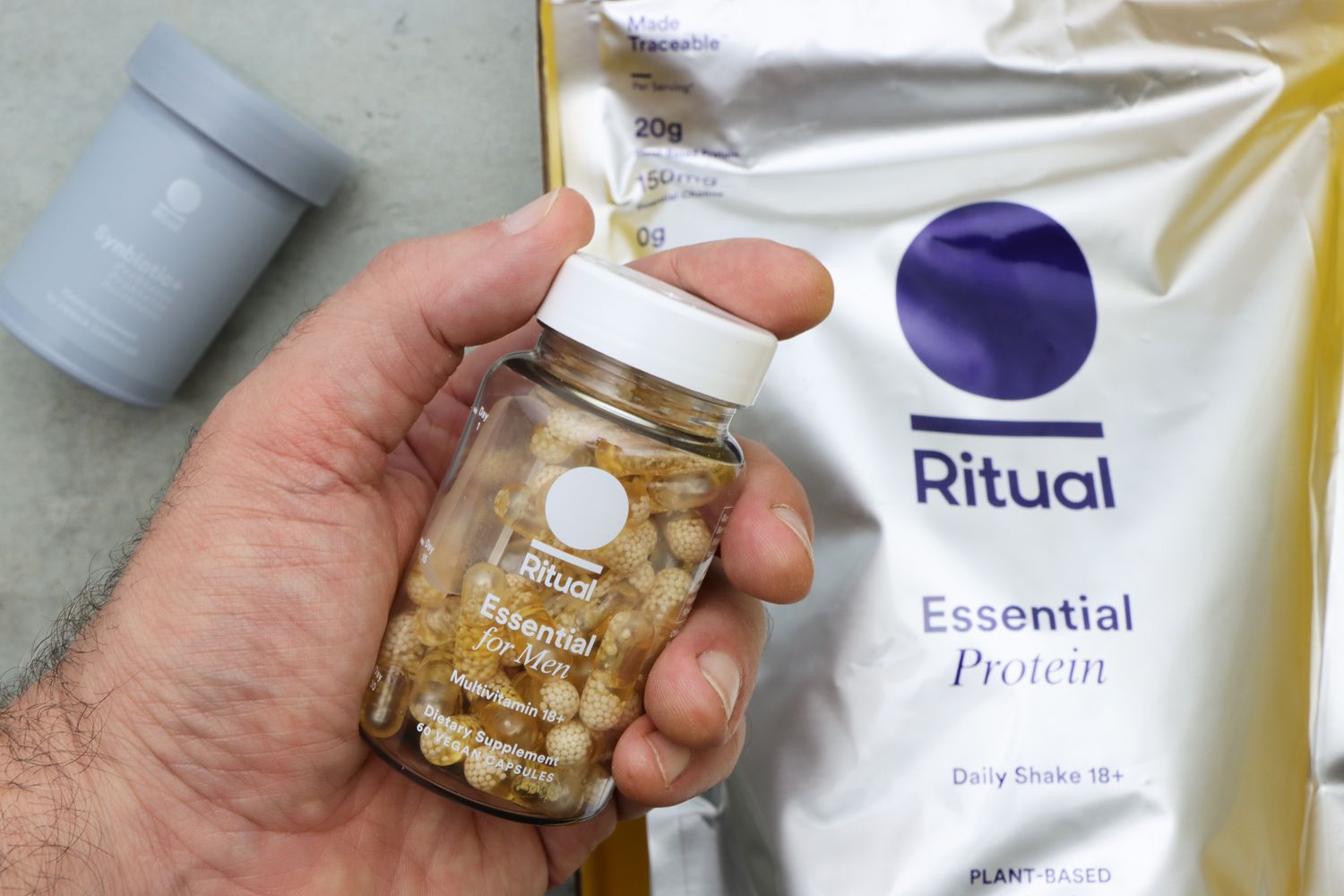 Ritual Essential for Men 18+
Essential for Men 18+ daily multivitamin supports heart health (DHA), and supports normal muscle function (Vitamin D), immune function (Zinc), and vision (Vitamin A).*
With 10 traceable ingredients and nutrients (instead of 9), Essential for Men 18+ has no iron like the women's formula. Instead, vitamin A and zinc have been added. It also has a minty tab.
As with all Ritual products, 100% of ingredients Made Traceable® – we showcase each supplier and final place of manufacturing for all active and other ingredients.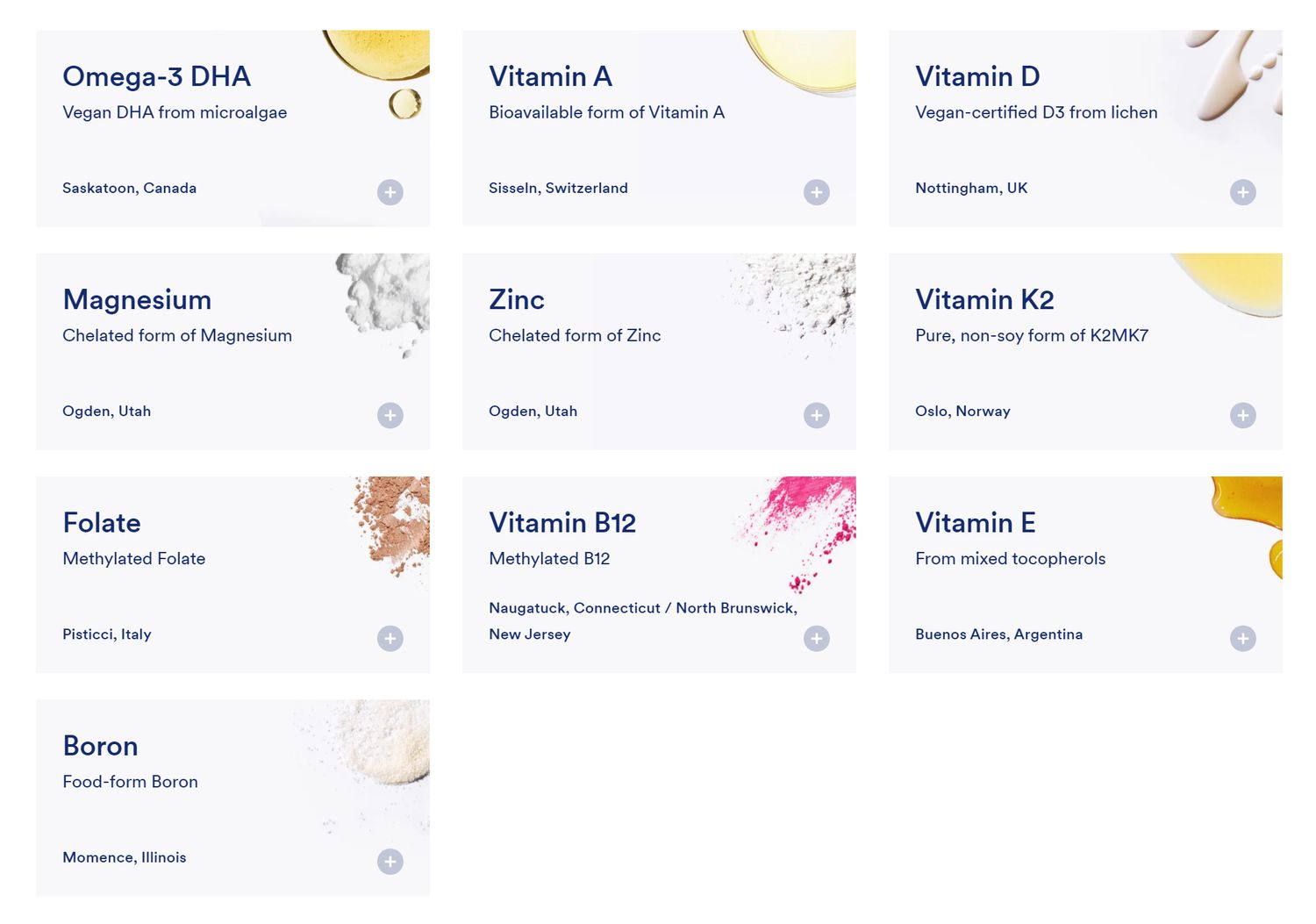 Price: $33
Dosage: 2 capsules
Capsules Per container: 60
Servings Per container: 30
Key ingredients: vitamin A, vitamin B12, vitamin D, vitamin E, folate, omega-3 DHA, vitamin K2, boron, magnesium, zinc.
👉 Try Ritual Essential for Men Multivitamin 18+
🔥Use Code ONBETTERLIVING for 30% OFF at checkout!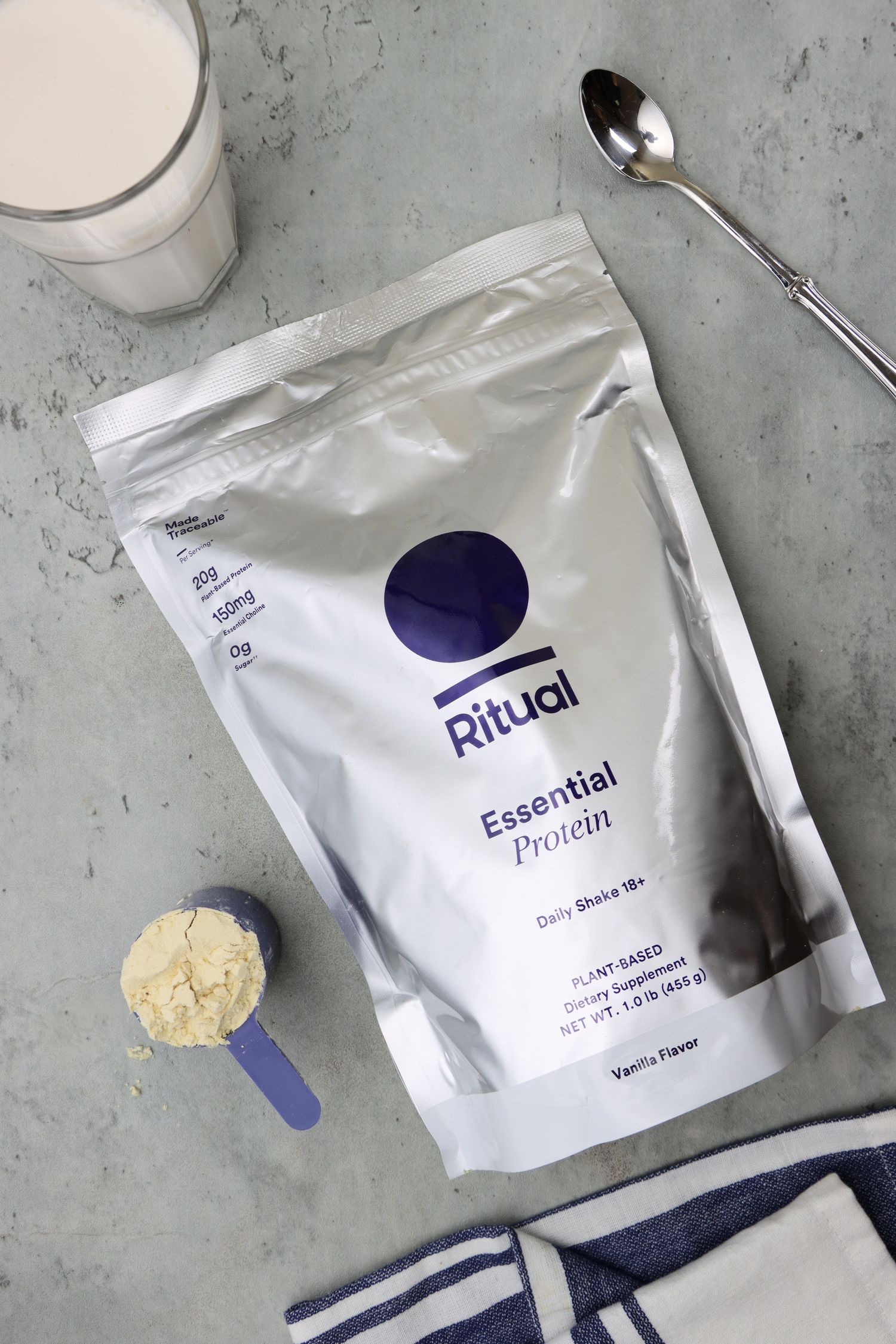 Ritual Protein: Essential Protein Daily Shake 18+ 
It's difficult for me to get enough of the protein I need every day. And it's been even harder finding a clean protein powder that tastes good. My search is officially over.
Ritual's Essential Protein Daily Shake 18+, has 20g of protein in each serving and  helps support strength, lean muscle mass, and muscle recovery.*
Other nutrients include choline, iron and calcium. Choline supports brain health and is a precursor for neurotransmitters.*
I also love that Essential Protein Daily Shake 18+: 
Has added BCAA's to make it a complete plant-based protein

It tastes really good (vanilla with a little maltiness)

It's not chalky at all.
Plus It's Clean!: Ritual third party tests every batch for heavy metals, microbes, and over 250 banned substances. And also Informed Sport Certified, a  strict standard of quality control in manufacturing.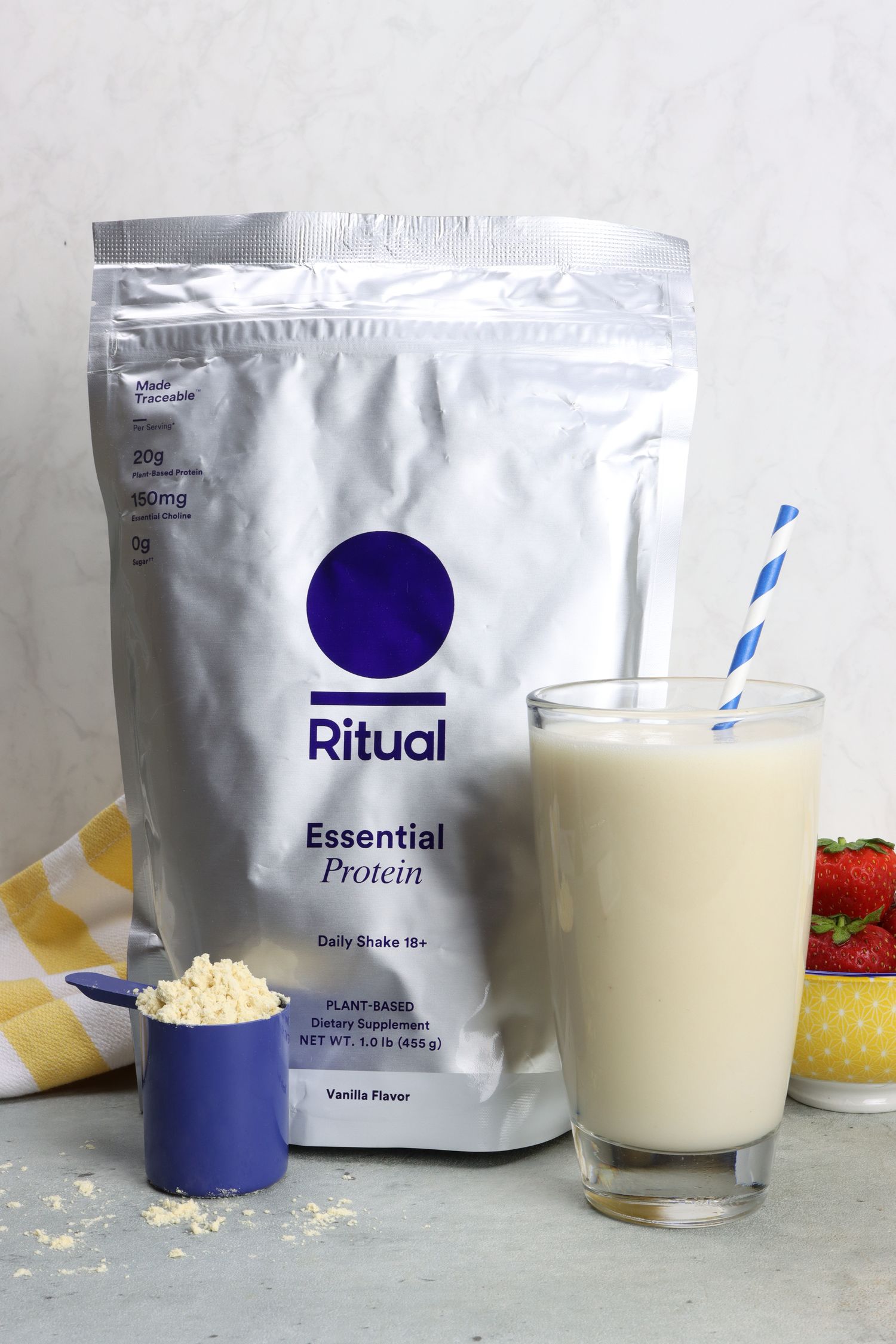 And It's Lightly Sweetened (Seriously!): Sickeningly sweet protein powders have been the bane of my existence. Ever try adding a banana to those things? 
But Ritual's is sugar-free† and PERFECTLY sweetened with a combination of fermented sugarcane (Reb-M) and monk fruit. It's banana friendly too!
† Not a reduced calorie food
Price: $40
Dosage: 1 Scoop
Servings: 15 per bag
Key Ingredients: A plant-based protein, iron, calcium,  choline
👉 Try Ritual Essential Protein Daily Shake 18+
🔥Use Code ONBETTERLIVING for 30% OFF at checkout!
Other Ritual Protein Formulas To Try

Ritual Gut Health*

: Synbiotic+

 
It's estimated 70 to 80% of our immune system lives in our guts and relies on the  microorganisms living within, known as the microbiome (23). 
Ritual Synbiotic+ is the latest state-of-the-art product for gut health to support a balanced microflora and digestive health.* 
Taking probiotics is important if the diet does not include many naturally fermented foods (kombucha, sauerkraut, miso, etc.). Poor diet and occasional stress may cause imbalances in gut microbiota (24). 
Ritual's 3-in-1 gut health formula contains*:
Prebiotic (supports desirable bacteria):

Supports the growth of desirable bacteria living inside the gut.*

Probiotic (immune and digestive support):

Ritual included two of the most clinically studied probiotic strains (BB-12® & LGG®) to help relieve mild and occasional bloating, gas, and diarrhea.*

Postbiotic (gut-lining fuel):

It also has butyrate, a short-chain fatty acid which is a major energy source for the cells that line the gut.* 
Ritual mentions on their website "it's important to call out that some may feel effects within 2-4 weeks of consistent use and others may not feel any effects. Just because you do not feel it, does not mean it's not working.* "
I eat fermented foods often and rarely notice a drastic change when I take probiotics. But I do like to keep them in my routine to maintain gut health.*
Synbiotic+ Price: $54
Dosage: One capsule a day
Total CFU's (colony forming units): 11 Billion 
Key Ingredients: Probiotic blend, PreforPro®, Tributyrin (as Corbiome®) 
👉 Try Ritual Ritual Synbiotic+
🔥Use Code ONBETTERLIVING for 30% OFF at checkout!

How Does Ritual Work? 
Ritual is a monthly subscription service that gets delivered right to your door. As a scatterbrain, I'm totally all about the convenience. 
Here are the pros:
You Can Control Your Delivery Date:

And it can be changed anytime. I love this option for when I'm traveling.

There's No Risk:

This makes trying Ritual a no brainer

. They guarantee your money back if you cancel before the 60 day trial period ends.

Cancel Anytime
Shipping is Free
I love the subscription because it helps me stick to a "ritual" of taking my multivitamins.
How to Save on Ritual Vitamins 
Save with Bundles

Sign up for emails to get exclusive sales and new product releases
🔥GET 30% OFF The 1st Month of RITUAL with our CODE: ONBETTERLIVING
The Downside of Ritual Multivitamins
While Ritual has a lot going for some, there are some disadvantages. 
Cost: Ritual vitamins start at $33 for a month's supply. This can be costly to some and may not fit into every budget. Especially if you want more than one product. Shipping is free though, and they offer bundles and discounts. 
And if you currently buy omega3-s and vitamin D separately now, Ritual could be more convenient and cheaper in the long run. 
The Subscription Model: Subscriptions aren't for everyone. If you don't want to sign up for a subscription but still want to try Ritual, they're also available at Target. Not all formulas are available.
Missing Nutrients: Ritual intentionally excluded nutrients from their multivitamins based on evidence from their extensive research. But you may still want more nutrients depending on your needs.
Getting Used to the Omega-3 Algae Oil: It doesn't bother me, but some customers have complained they get "fishy burps" from the omega-3 algae oil and the mint tab doesn't help. Ritual suggests taking them at bedtime or on an empty stomach with a glass of juice. The only way to know if this would affect you would be to try them for yourself. 
The Flavor: Ritual includes a mint scent tab with most of its formulas. The prenatal formula has an option of a mint or a citrus tab. I like the minty tab but I know not everyone's a fan.
Tips for Using Ritual Vitamins
If you decide to try Ritual multivitamins, I think these tips will make the most of your experience:
Take the

online quiz

on their website to find which formula (s) is best for you.

Start with one capsule per day for the first few days to see how the body reacts.

Take the capsules at the same time every day to form a habit.
You should continue to eat a healthy diet to complement the supplements and drink plenty of water throughout the day to stay hydrated. 
Consult your doctor before starting any new supplement routine.
The Final Verdict: Are Ritual Multivitamins Worth It?
I've been taking Ritual multivitamins for almost a month now, and I'm convinced they've changed my wellness game. Unlike other multivitamins that are loaded with unnecessary or questionable ingredients, Ritual only includes key ingredients to help fill common nutrient gaps*
For now I'm sticking with Ritual's multivitamins to see if I notice any more personal benefits in the future.
I would definitely recommend Ritual to anyone who wants a multivitamin that's clean, Made Traceable® and thoughtfully designed with the science to back it up.

Conclusion: Why Choose Ritual?
If you are looking for clean, high-quality, vegan-friendly and transparent and research-backed vitamins and supplements, don't hesitate to try Ritual.
You can cancel anytime, it's no risk. If you don't love it within the trial period, Ritual will give you a full refund. 
If you're not ready to sign up for a subscription, some of Ritual's most popular formulas are available for purchase at Target.
You can learn more about Ritual or order their products on their website at https://ritual.com/
Get 30% OFF your 1st month of Ritual! 
Enter Code: ONBETTERLIVING at checkout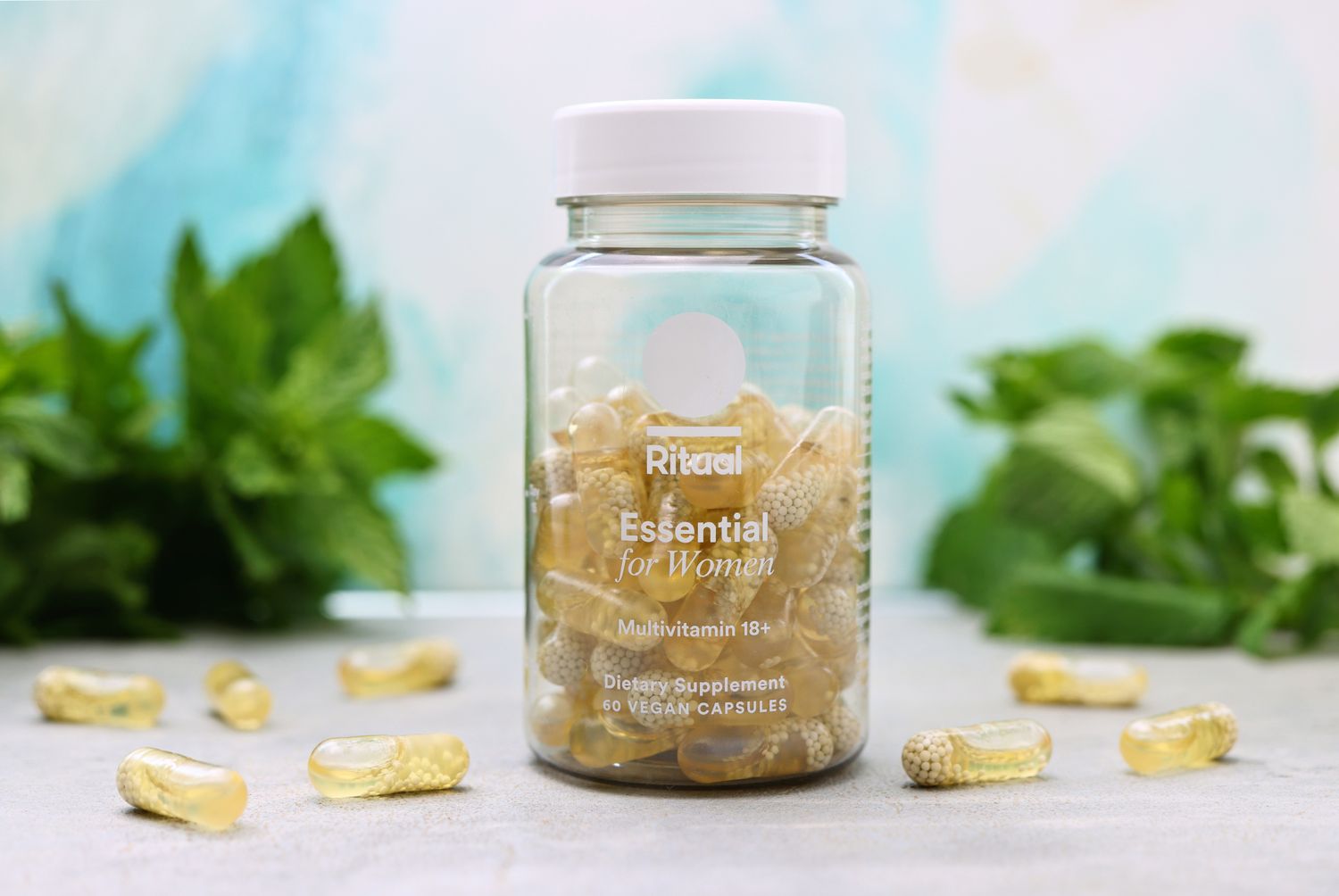 * These statements have not been evaluated by the Food and Drug Administration. This product is not intended to diagnose, treat, cure or prevent any disease