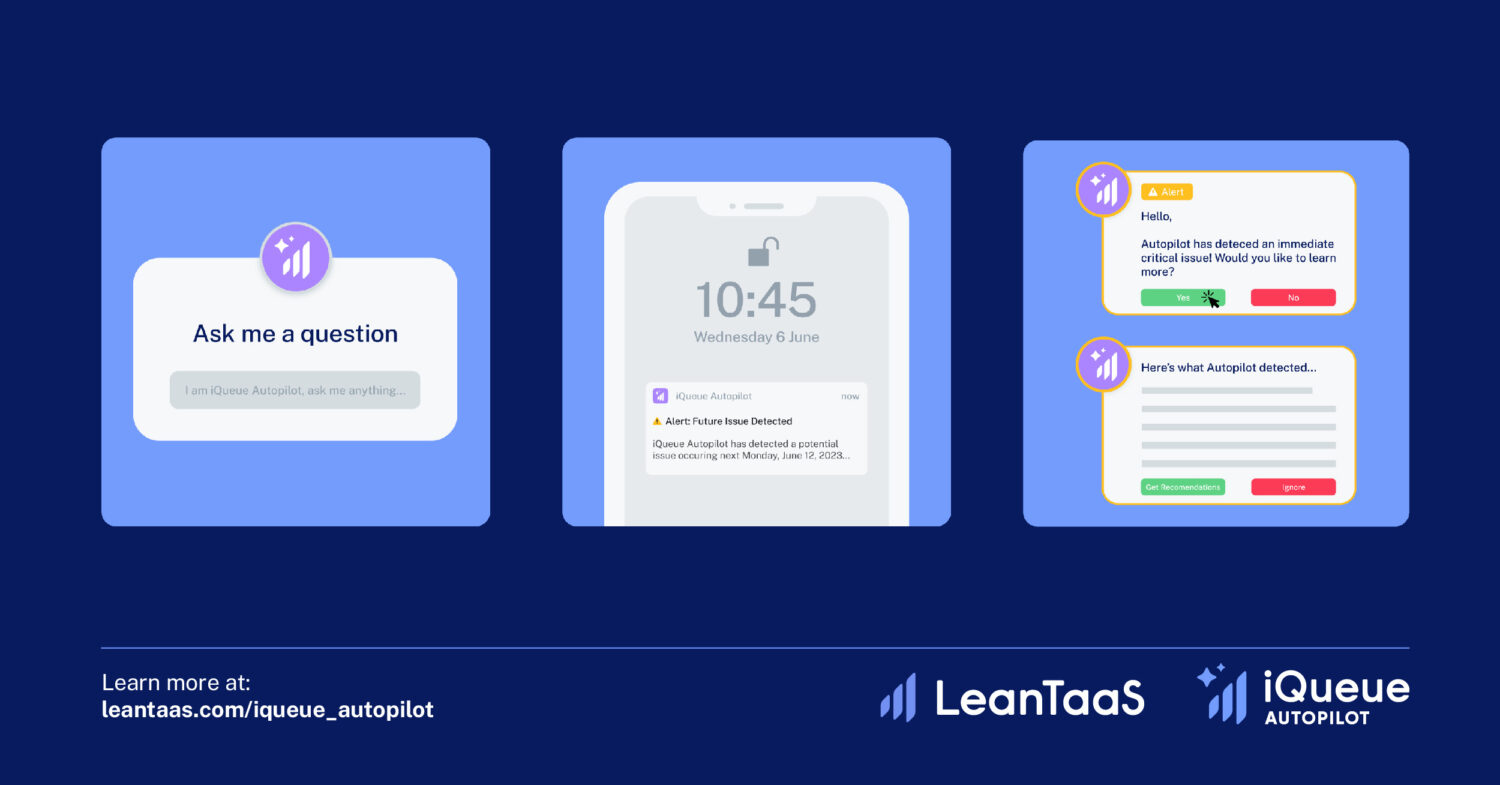 What You Should Know:
LeanTaaS, Inc., the market leader in providing AI-powered and SaaS-based capacity management, staffing, and patient flow software for health systems, today announced the launch of  iQueue Navigator, a first-of-its-kind generative AI solution that will provide hospital leaders with human-like conversations and actionable insights to support decision-making on staffing, scheduling, workflow, and utilization operations.
Generative AI is projected to grow faster in healthcare than any other industry, with a compound annual growth rate of 85% through 2027 according to Boston Consulting Group. The iQueue Navigator solution will be used in all major areas of the hospital setting and integrated into LeanTaaS' three products,  iQueue for Infusion Centers, and iQueue for Inpatient Flow.
Bringing the Vision of "Air Traffic Control" For Health Systems to Life
"Healthcare has a unique opportunity to leapfrog older technology by harnessing AI to improve patient access, staff and clinician experience, and reduce staff burnout," said Sanjeev Agrawal, LeanTaaS President and COO. "For decades, legacy IT systems and standard dashboards have simply admired the patient access, capacity issues and staffing problems hospitals experience. Thanks to the power of predictive and prescriptive analytics — and now generative analytics — we can give leaders, frontline staff, and clinicians dynamic solutions at their fingertips that proactively solve the biggest challenges facing hospitals today, including broken workflows and crippling staffing shortages." 
LeanTaaS has the largest repository of normalized hospital operational data across the country and critical expertise in using AI tools to deliver actionable predictive and prescriptive analytics, which are empowering the company to quickly expand to generative analytics that will create even more value for hospitals and health systems. The iQueue Navigator prototype, which will be tested by beta customers in the next 90 days, will provide digital assistance that drives actions through three different methods including:
Lean Forward: The "Lean Forward" method of iQueue Navigator allows clinical decision makers to ask the solution for best practices and recommendations on capacity optimization management. As an example, nurses can ask iQueue Navigator for up-to-the-minute staffing recommendations, hospital administrators can discuss case volume shifts, and perioperative leaders can chat with the solution about block utilization best practices. Human-like conversations take place via desktop, smartphones, and tablets. 
Lean Back: The "Lean Back" method of iQueue Navigator proactively alerts clinical decision makers throughout the day to potential issues, like scheduling and staffing roadblocks. After flagging, the solution provides the user with best approaches and tangible recommendations on how to approach and solve issues. Flags are sent through email, SMS, and third-party messages. 
Moment in Time Problem Solving: This method provides real-time notifications to create awareness and action to a potential medical or operational issue. Clinicians can be notified of a risk in operating room, inpatient, and infusion areas if the solution detects deviations from standard processes and will provide mitigation recommendations before issues arise. This provides clinicians with the information needed to proactively flex other assets and resources to avoid any potential safety issues. 
iQueue Navigator is further validation that LeanTaaS remains on the leading-edge of solving the healthcare industry's biggest challenges. Earlier this year, LeanTaaS announced the launch of Transformation as a Service (TaaS), a first-of-its-kind service that guarantees outcomes. Technology alone does not yield sustainable transformation, and this is going to be true with Generative AI as well. Technology must be paired with change management experts who can guide organizations through disruption towards results. The TaaS offering provides each customer with a dedicated team that delivers the required services for implementing the technology, driving change management, establishing systemwide governance, and ensuring ongoing success.