What You Should Know: 
Pomelo Care, an NYC-based value-based virtual maternity care platform that improves maternal and newborn health outcomes, announced $33M in Seed and Series A funding led by Andreessen Horowitz. The latest round brings its total capital raised to date to $33M. 
The company supports its patients from preconception through an infant's first year with personalized and proactive 24/7 care from a dedicated, multispecialty team.
Pregnancy & newborn care, anytime & anywhere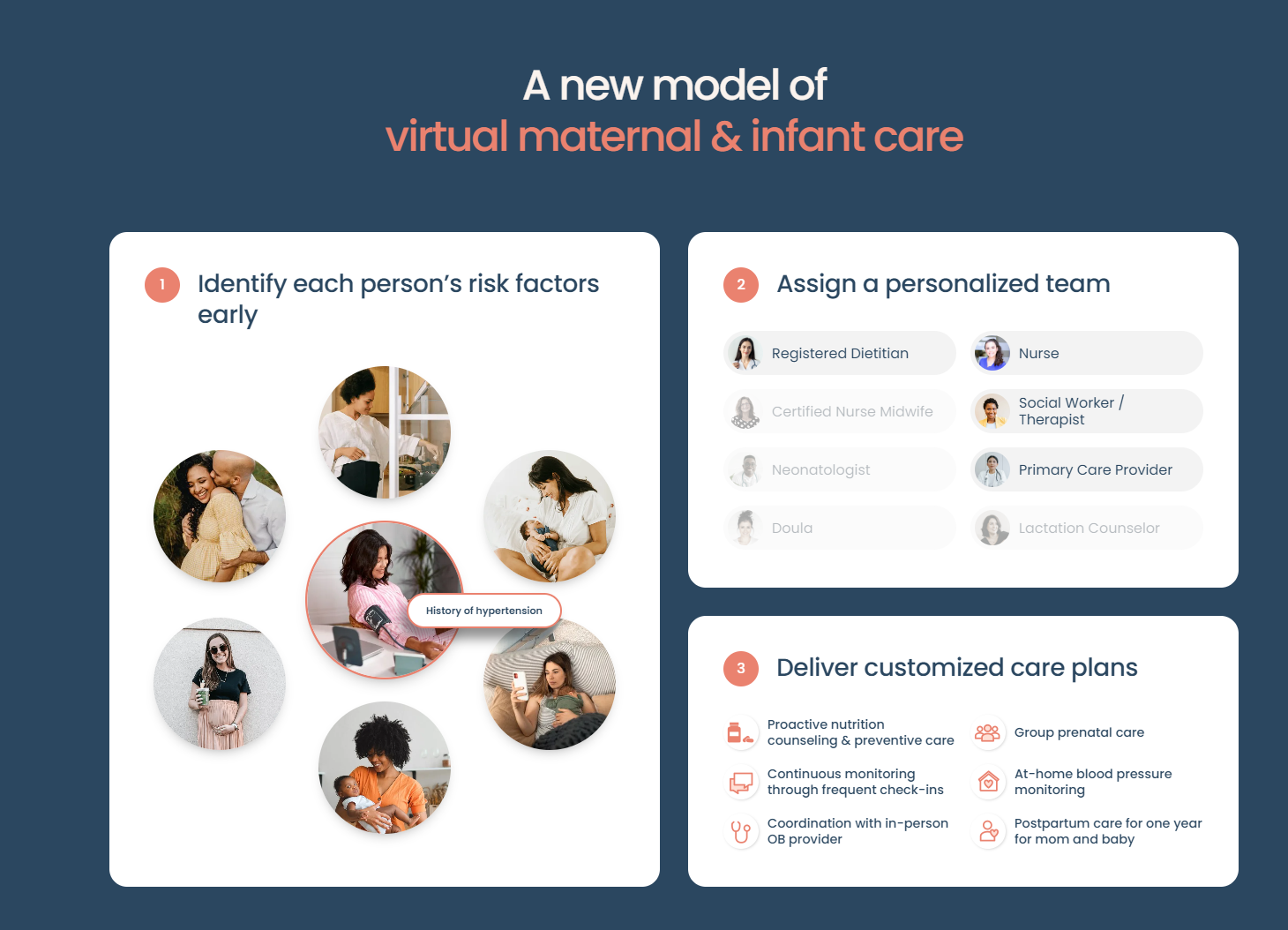 Despite spending $111B annually on maternal healthcare, the U.S. has some of the highest rates of preterm birth, NICU admissions and preventable maternal complications in the developed world. Maternal mortality worsened during the pandemic, with poor maternal and newborn outcomes remaining even more common in communities of color and rural areas. One in ten newborns start their life in the NICU and cesarean births have increased 41% over the last two decades. However, with evidence-based and accessible interventions, preterm births can be reduced by 33%, cesarean deliveries reduced by 40% and the average NICU stay reduced by at least four days.
Pomelo's multispecialty team of expert clinicians cares for mothers and infants from preconception through pregnancy, birth and one year postpartum, spanning everything from prenatal care to nutrition and lactation to mental health. Its value-based virtual care model pairs each patient with a personalized care team to comprehensively address maternal health inequities and the root causes of poor outcomes. Pomelo uses data to predict and proactively identify risk, provides holistic care leveraging evidence-based protocols and novel care programs and makes 24/7 care accessible via phone, text and video. Pomelo works with leading commercial and Medicaid health plans and employers including Penn Medicine, Mount Sinai Health System, Koch Industries, Elevance Health, Healthy Blue Nebraska, Nebraska Total Care, a Centene affiliate, and more.
"We know that the right care at the right time can dramatically improve outcomes for families. Everyone deserves access to high-quality care, regardless of their circumstances or health plan," said Marta Bralic Kerns, founder and CEO at Pomelo Care. "That's why Pomelo exists – we address patient concerns right away and at home, keeping them out of the emergency room unnecessarily and lowering their risk of pregnancy, postpartum and newborn complications."
Recent Traction/Milestones
On track to cover two million lives this year: Pomelo currently serves patients in 44 states and partners with national payers, several of the largest Medicaid managed care organizations in the country, employers including Mount Sinai Health System and leading academic medical centers including Penn Medicine.
> 4.9/5 average patient satisfaction: Pomelo provides 24/7 access to care with one-third of patient interactions taking place outside of traditional clinic hours and an average response time of five minutes.
Expansion Plans
Pomelo plans to use the funding to fuel its continued partnership expansion with major health plans, including several Medicaid managed care organizations, employers and leading academic medical centers on the front lines of the national maternal health crisis.