Inside an MRI scanner, teens can see how mindfulness meditation quiets a neural network associated with rumination and worry.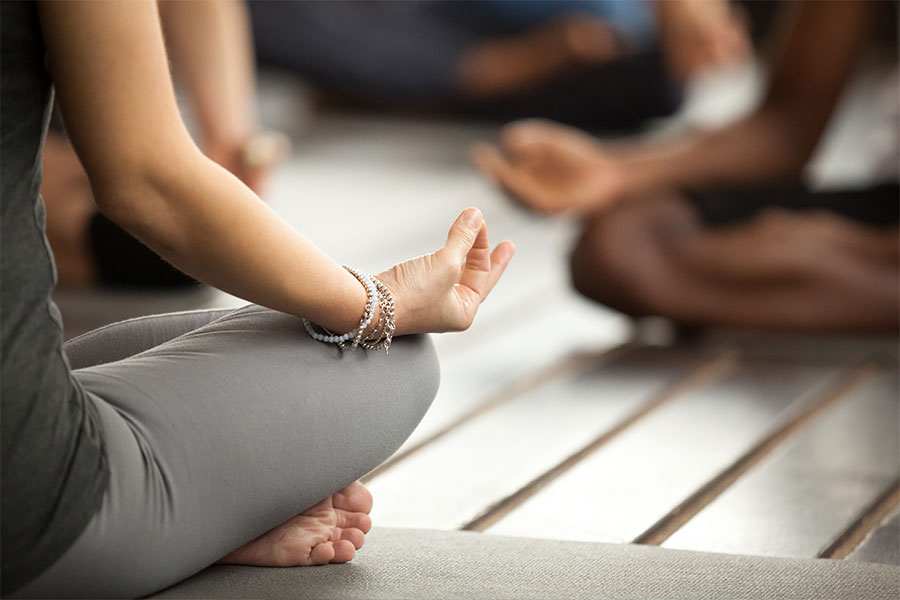 Real-time feedback about brain activity can help adolescents with depression or anxiety quiet their minds, according to a new study from MIT scientists. The researchers, led by McGovern research affiliate Susan Whitfield-Gabrieli, have used functional magnetic resonance imaging (fMRI) to show patients what's happening in their brain as they practice mindfulness inside the scanner and to encourage them to focus on the present. They report in the journal Molecular Psychiatry that doing so settles down neural networks that are associated with symptoms of depression.
"We know this mindfulness meditation is really good for kids and teens, and we think this real-time fMRI neurofeedback is really a way to engage them and provide a visual representation of how they're doing," says Whitfield-Gabrieli. "And once we train people how to do mindfulness meditation, they can do it on their own at any time, wherever they are."
The approach could be a valuable tool to alleviate or prevent depression in young people, which has been on the rise in recent years and escalated alarmingly during the Covid-19 pandemic. "This has gone from bad to catastrophic, in my perspective," Whitfield-Gabrieli says. "We have to think out of the box and come up some really innovative ways to help."
Default mode network
Mindfulness meditation, in which practitioners focus their awareness on the present moment, can modulate activity within the brain's default mode network, which is so named because it is most active when a person is not focused on any particular task. Two hubs within the default mode network, the medial prefrontal cortex and the posterior cingulate cortex, are of particular interest to Whitfield-Gabrieli and her colleagues, due to a potential role in the symptoms of depression and anxiety.
"These two core hubs are very engaged when we're thinking about the past or the future and we're not really engaged in the present moment," she explains. "If we're in a healthy state of mind, we may be reminiscing about the past or planning for the future. But if we're depressed, that reminiscing may turn into rumination or obsessively rehashing the past. If we're particularly anxious, we may be obsessively worrying about the future."
Whitfield-Gabrieli explains that these key hubs are often hyperconnected in people with anxiety and depression. The more tightly correlated the activity of the two regions are, the worse a person's symptoms are likely to be. Mindfulness, she says, can help interrupt that hyperconnectivity.
"Mindfulness really helps to focus on the now, which just precludes all of this mind wandering and repetitive negative thinking," she explains. In fact, she and her colleagues have found that mindfulness practice can reduce stress and improve attention in children. But she acknowledges that it can be difficult to engage young people and help them focus on the practice.
Tuning the mind
To help people visualize the benefits of their mindfulness practice, the researchers developed a game that can be played while an MRI scanner tracks a person's brain activity. On a screen inside the scanner, the participant sees a ball and two circles. The circle at the top of the screen represents a desirable state in which the activity of the brain's default mode network has been reduced, and the activity of a network the brain uses to focus on attention-demanding tasks—the frontal parietal network—has increased. An initial fMRI scan identifies these networks in each individual's brain, creating a customized mental map on which the game is based.
As the person practices mindfulness meditation, which they learn prior to entering the scanner, the default mode network in the brain quiets while the frontal parietal mode activates. When the scanner detects this change, the ball moves and eventually enters its target. With an initial success, the target shrinks, encouraging even more focus. When the participant's mind wanders from their task, the default mode network activation increases (relative to the frontal parietal network) and the ball moves down towards the second circle, which represents an undesirable state. "Basically, they're just moving this ball with their brain," Whitfield-Gabrieli says. "They're training their brain to tune their mind. And they love it."
Nine individuals between the ages of 17 and 19 with a history of major depression or anxiety disorders tried this new approach to mindfulness training, and for each of them, Whitfield-Gabrieli's team saw a reduction in connectivity within the default mode network. Now they are working to determine whether an electroencephalogram, in which brain activity is measured with noninvasive electrodes, can be used to provide similar neurofeedback during mindfulness training—an approach that could be more accessible for broad clinical use.
Whitfield-Gabrieli notes that hyperconnectivity in the default mode network is also associated with psychosis, and she and her team have found that mindfulness meditation with real-time fMRI feedback can help reduce symptoms in adults with schizophrenia. Future studies are planned to investigate how the method impacts teens' ability to establish a mindfulness practice and its potential effects on depression symptoms.