A full-building energy efficiency project aims to reduce total campus emissions by 2 percent.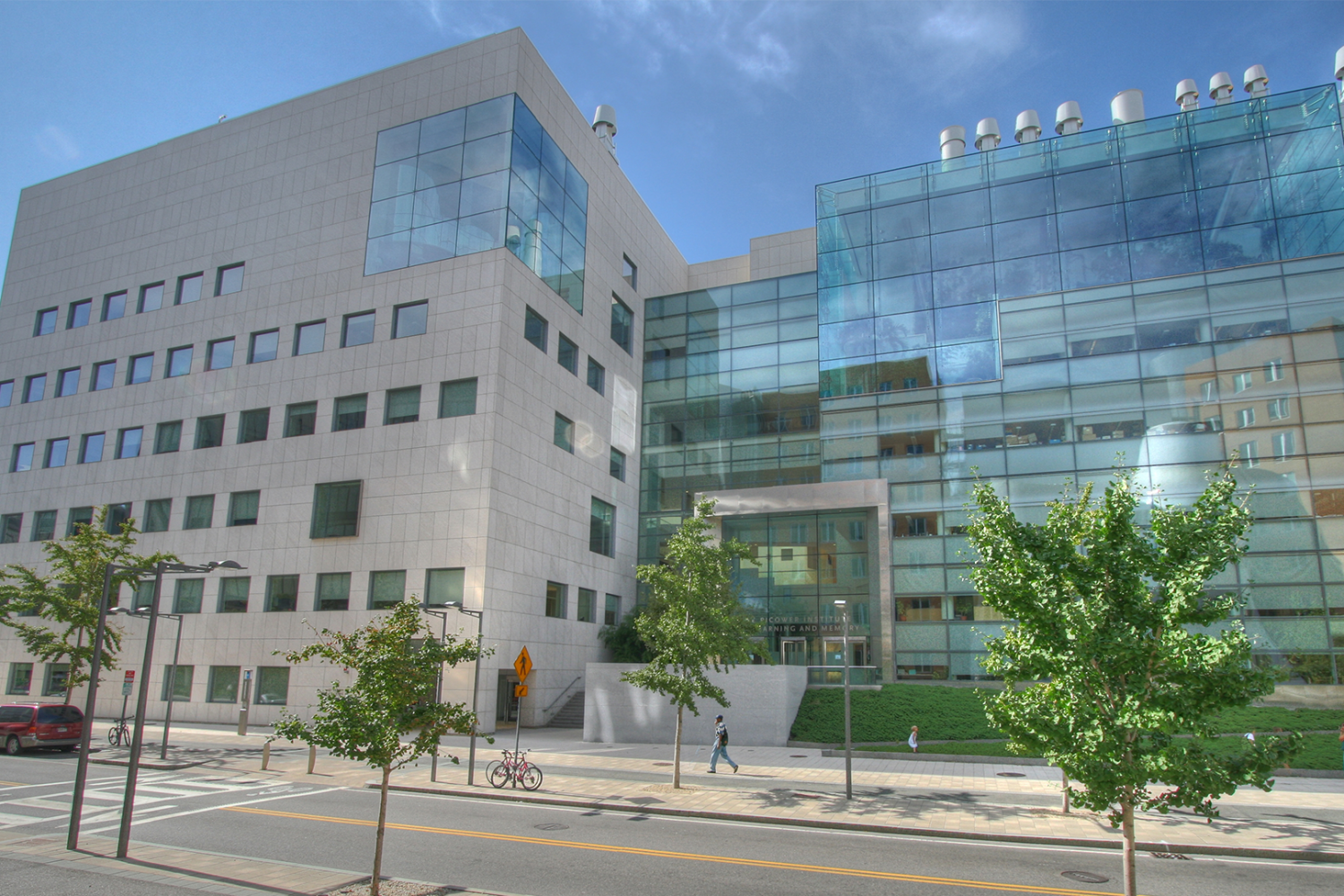 When staff in MIT's Department of Facilities would visualize energy use and carbon-associated emissions by campus buildings, Building 46 always stood out — attributed to its energy intensity, which accounted for 8 percent of MIT's total campus energy use. This high energy draw was not surprising, as the building is home of the Brain and Cognitive Sciences Complex and a large amount of lab space, but it also made the building a perfect candidate for an energy performance audit to seek out potential energy saving opportunities.
This audit revealed that several energy efficiency updates to the building mechanical systems infrastructure, including optimization of the room-by-room ventilation rates, could result in an estimated 35 percent reduction of energy use, which would in turn lower MIT's total greenhouse gas emissions by an estimated 2 percent — driving toward the Institute's 2026 goal of net-zero and 2050 goal of elimination of direct campus emissions.
Building energy efficiency projects are not new for MIT. Since 2010, MIT has been engaged in a partnership agreement with utility company Eversource establishing the Efficiency Forward program, empowering MIT to invest in more than 300 energy conservation projects to date and lowering energy consumption on campus for a total calculated savings of approximately 70 million kilowatt hours and 4.2 million therms. But at 418,000 gross square feet, Building 46 is the first energy efficiency project of its size on the campus.
"We've never tackled a whole building like this — it's the first capital project that is technically an energy project," explains Siobhan Carr, energy efficiency program manager, who was part of the team overseeing the energy audit and lab ventilation performance assessment in the building. "That gives you an idea of the magnitude and complexity of this."
The project started with the full building energy assessment and lab ventilation risk audit. "We had a team go through every corner of the building and look at every possible opportunity to save energy," explains Jessica Parks, senior project manager for systems performance and turnover in campus construction. "One of the biggest issues we saw was that there's a lot of dry lab spaces which are basically offices, but they're all getting the same ventilation as if they were a high-intensity lab." Higher ventilation and more frequent air exchange rates draw more energy. By optimizing for the required ventilation rates, there was an opportunity to save energy in nearly every space in the building.
In addition to the optimized ventilation, the project team will convert fume hoods from constant volume to variable volume and install equipment to help the building systems run more efficiently. The team also identified opportunities to work with labs to implement programs such as fume hood hibernation and unoccupied setbacks for temperature and ventilation. As different spaces in the building have varying needs, the energy retrofit will touch all 1,254 spaces in the building — one by one — to implement the different energy measures to reach that estimated 35 percent reduction in energy use.
Although time-consuming and complex, this room-by-room approach has a big benefit in that it has allowed research to continue in the space largely uninterrupted. With a few exceptions, the occupants of Building 46, which include the Department of Brain and Cognitive Sciences, The McGovern Institute for Brain Research, and The Picower Institute for Learning and Memory, have remained in place for the duration of the project. Partners in the MIT Environment, Health and Safety Office are instrumental to this balance of renovations and keeping the building operational during the optimization efforts and are one of several teams across MIT contributing to building efficiency efforts.
The completion date of the building efficiency project is set for 2024, but Carr says that some of the impact of this ongoing work may soon be seen. "We should start to see savings as we move through the building, and we expect to fully realize all of our projected savings a year after completion," she says, noting that the length of time is required for a year-over-year perspective to see the full reduction in energy use.
The impact of the project goes far beyond the footprint of Building 46 as it offers insights and spurred actions for future projects — including buildings 76 and 68, the number two and three top energy users on campus. Both buildings recently underwent their own energy audits and lab ventilation performance assessments. The energy efficiency team is now crafting a plan for full-building approaches, much like Building 46. "To date, 46 has presented many learning opportunities, such as how to touch every space in a building while research continues, as well as how to overcome challenges encountered when working on existing systems," explains Parks. "The good news is that we have developed solutions for those challenges and the teams have been proactively implementing those lessons in our other projects."
Communication has proven to be another key for these large projects where occupants see the work happening and often play a role in answering questions about their unique space. "People are really engaged, they ask questions about the work, and we ask them about the space they're in every day," says Parks. "The Building 46 occupants have been wonderful partners as we worked in all of their spaces, which is paving the way for a successful project."
The release of Fast Forward in 2021 has also made communications easier, notes Carr, who says the plan helps to frame these projects as part of the big picture — not just a construction interruption. "Fast Forward has brought a visibility into what we're doing within [MIT] Facilities on these buildings," she says. "It brings more eyes and ears, and people understand that these projects are happening throughout campus and not just in their own space — we're all working to reduce energy and to reduce greenhouse gas across campus."
The Energy Efficiency team will continue to apply that big-picture approach as ongoing building efficiency projects on campus are assessed to reach toward a 10 to 15 percent reduction in energy use and corresponding emissions over the next several years.