Prestigious awards recognize community support of MIT's goals, values, and mission.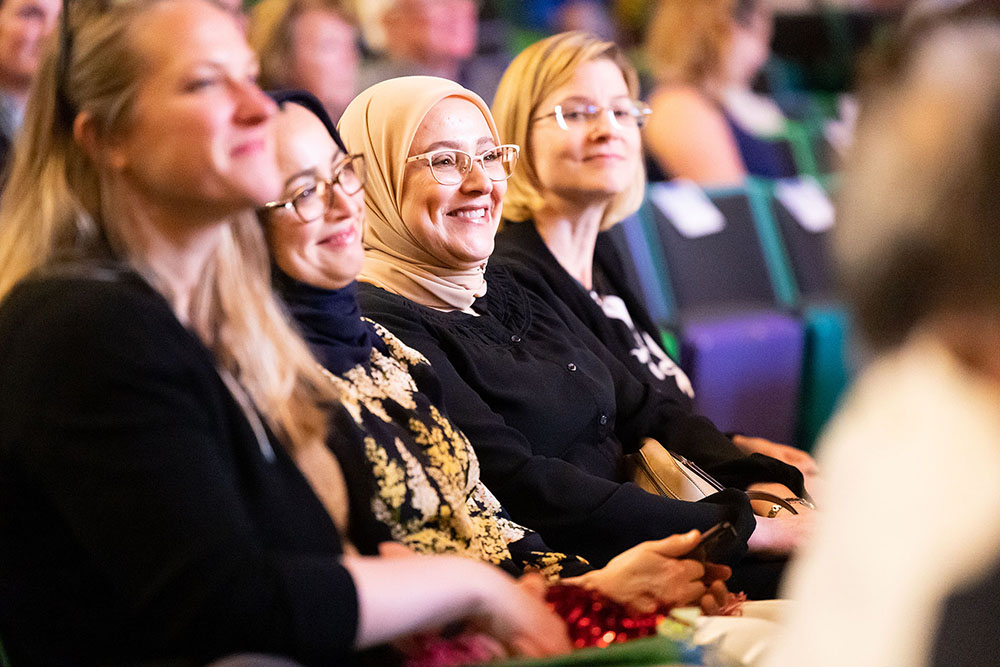 Twenty-four individuals and one team were awarded MIT Excellence Awards — the highest awards for staff at the Institute — at a well-attended and energetic ceremony the afternoon of June 8 in Kresge Auditorium. In addition to the Excellence Awards, two community members were honored with the Collier Medal and Staff Award for Distinction in Service.
The Excellence Awards, Collier Medal, and Staff Award for Distinction in Service recognize the extraordinary dedication of staff and community members who represent all areas of the Institute, both on campus and at the Lincoln Laboratory.
The Collier Medal honors the memory of Officer Sean Collier, who gave his life protecting and serving the MIT community, and celebrates an individual or group whose actions demonstrate the importance of community. The Staff Award for Distinction in Service, now in its second year, is presented to a staff member whose service to the Institute results in a positive lasting impact on the community.
The 2023 MIT Excellence Award recipients and their award categories are:
Sustaining MIT: Erin Genereux; Rachida Kernis; J. Bradley Morrison, and the Tip Box Recycling Team (John R. Collins, Michael A. DeBerio, Normand J. Desrochers III, Mitchell S. Galanek, David M. Pavone, Ryan Samz, Rosario Silvestri, and Lu Zhong);
Innovative Solutions: Abram Barrett, Nicole H. W. Henning
Bringing Out the Best: Patty Eames, Suzy Maholchic Nelson
Serving Our Community: Mahnaz El-Kouedi, Kara Flyg, Timothy J. Meunier, Marie A. Stuppard, Roslyn R. Wesley
Embracing Diversity, Equity, and Inclusion: Farrah A. Belizaire
Outstanding Contributor: Diane Ballestas, Robert J. Bicchieri, Lindsey Megan Charles, Benoit Desbiolles, Dennis C. Hamel, Heather Anne Holland, Gregory L. Long, Linda Mar, Mary Ellen Sinkus, Sarah E. Willis, and Phyl A. Winn
The 2023 Collier Medal recipient was Martin Eric William Nisser, a graduate student fellow in the Department of Electrical Engineering and Computer Science/Computer Science and Artificial Intelligence Laboratory and the School of Engineering/MIT Schwarzman College of Computing.
The 2023 recipient of the Staff Award for Distinction in Service was Kimberly A. Haberlin, chief of staff in the Chancellor's Office.
Presenters included President Sally Kornbluth; Vice President for Human Resources Ramona Allen; Provost Cynthia Barnhart; School of Engineering Dean Anantha Chandrakasan; MIT Police Chief John DiFava and MIT Police Captain Andrew Turco; Institute Community and Equity Officer John Dozier; Lincoln Laboratory Director Eric Evans; and Chancellor Melissa Nobles. As always, an animated and supportive audience with signs, pompoms, and glow bracelets filled the auditorium with cheers for the honorees.
Visit the MIT Human Resources website for more information about the award categories, selection process, recipients, and to view the archive video of the event.