Getting a good workout or getting back in shape has never been more accessible. While the gym is a popular choice, it's not the only option anymore. Digital and remote personal training have emerged as significant fitness trends. And more people are getting on board.
But, is remote personal training worth it? Or, is going to a traditional gym the best option? 
It depends.
In this article, we'll discuss the pros and cons of working out in a traditional gym versus training with an online fitness coach. Then you can decide which is right for you.
Here's what to consider:
1. Remote Personal Training is Best if You Want to Skip the Strange Gym Encounters 
Anyone who's had a gym membership has at least one bizarre story about the sometimes annoying and other times cringey shenanigans that go on there. If you don't know what I'm talking about, google "gym horror stories" and you'll quickly understand.
Bad gym etiquette can include not wiping down equipment, being too loud, slamming weights, wearing too much fragrance or too little deodorant, and hogging equipment. 
With remote personal training, you can exercise in the serenity of your own home, stress and cologne free.
2. If You Feel Self-Conscious Working Out in Public Go For Remote Personal Training
The gym can be an intimidating place. If you don't know how to use the machines, you're confused about what routine to do, or you feel self-conscious working out in front of other people, you're not alone. 
Gym anxiety, also known as 'gymtimidation',  is real. 
65% of women avoid the gym because they're fearful of being judged. 

45% of women feel too out of shape to go to the gym. (

1

)
Don't let fear stop you from doing something good for your health. If you want to build up confidence before you hit the gym, online training is a good place to start. 
As long as you have a Wi-Fi signal, you can do it all from at home.
Take the Future fitness app as an example. Using Future, a dedicated coach crafts personalized weekly workout plans tailored to your fitness level for convenient home (or gym) workouts. You'll also benefit from daily, in-depth support via in-app messaging. This approach ensures your fitness progresses without letting your worries hinder your journey. You'll also have the option to schedule video calls for more extensive guidance.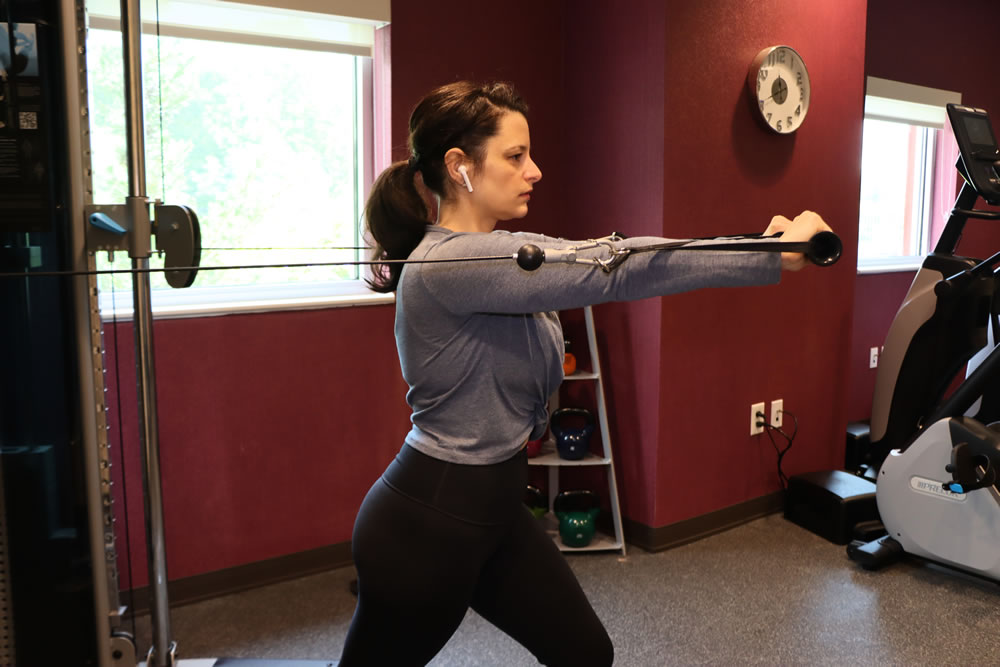 3. A Traditional Gym is Ideal if You Want Access to a Lot of Equipment 
Anyone can get fit at home  through diet, cardio, and bodyweight exercises. 
But if you want the luxury of having access to a variety of fitness machines, workout equipment, and classes all in one place, then a traditional gym membership is your best bet. Some high-end clubs will also have spa-like amenities such as pools, whirlpools, saunas, and juice bars.
4. If you Enjoy Getting Out of the House, Join a Traditional Gym 
It's estimated that 4.7 million people in the United States work from home. Working at home has plenty of advantages. But it can also make some people bored, isolated and on edge. Going to the gym might be exactly what you need and can help boost mental health, while increasing productivity and creativity. But exercise does those things too.
If it's not your work but something else keeping you stuck at home, joining a gym can provide a pleasant change of scenery. It's also ideal if you don't have enough space or privacy to exercise at home without distraction.
5. Head to the Gym If You Enjoy a Social Atmosphere
If you enjoy the energy of being around people, then you'll be right at home in a traditional gym setting. Research shows that working out with a friend with a similar fitness level can boost motivation. Go regularly and you may meet some new workout buddies to exercise with.
If you need help training, a gym can also hook you up with a trainer for one-on-one sessions to help you reach your goal.
Online training, for the most part, lacks the same level of social interaction, but some platforms provide virtual communities and support groups. 
With Future remote personal training, you get your own dedicated coach to chat with every day to monitor your progress and guide you along your fitness journey. 
6. Save Time Commuting With Online Training 
Cities are great for having unlimited types of fitness classes and fitness clubs within a small radius. But what if your neighborhood doesn't have a lot of options? Or maybe you don't have a lot of extra time.
Research shows that the farther your gym is, the less likely you are to go. So if you don't have a gym near your home or on the way home from work, online training is the better bet. The best part is you can log in from anywhere in the world and have your workouts ready to go. 
Plus, with online training, you can save travel time and money on gas. And if distance to a fitness club isn't the issue, but your schedule is jam-packed, online training is the most flexible way to fit exercise into your life.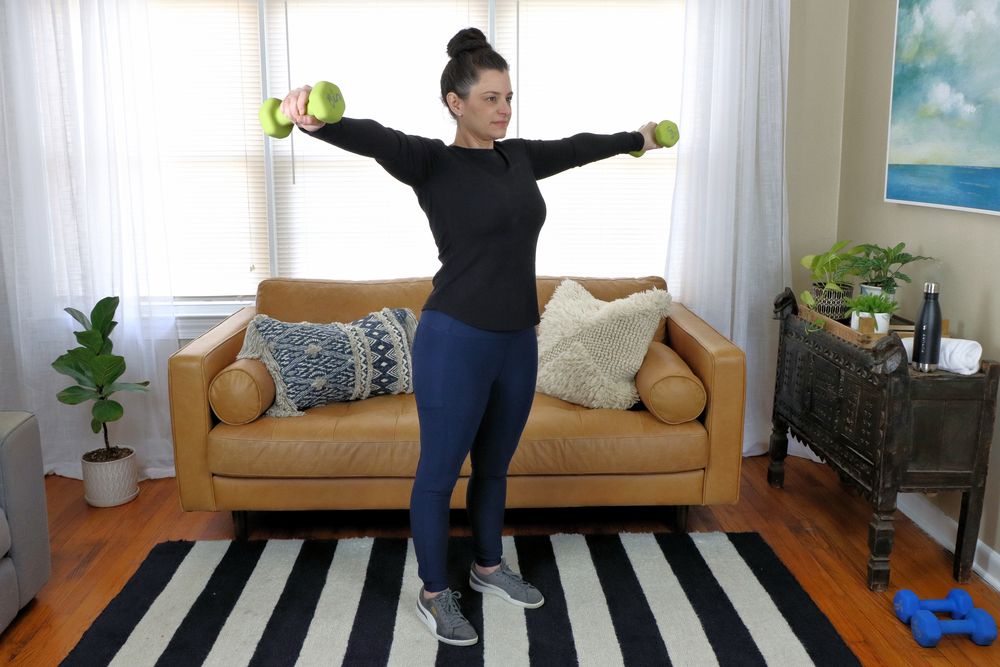 7. To Avoid Getting Sick, Skip the Gym
Many gyms have become more strict and diligent in their cleanliness. But when you're around other people, there's always a risk of exposure to contagious pathogens, including viruses like the cold and flu and COVID. Especially in a place where there's a lot of huffing and puffing and sweaty people touching things. 
With remote personal training, you can control when, and if you want to social distance to reduce your risk of getting sick.
8. Consider Cost
The average cost of a gym membership varies, and will ultimately depend on the market where you live. Memberships cost on average anywhere from $10 to $70 per month, but clubs that offer more luxurious facilities can be $200 or more.
If you need personal training sessions to help you plan a routine and learn new exercises, that's an additional cost. But some gyms offer complimentary sessions when you sign up.
The national average for personal training sessions is about $60 to $75 per hour, but it's not uncommon to see them ring in at $100 or more, depending on your location and the trainer's level of experience.
Discounts are often offered if you buy personal training packages of sessions, and some gyms may offer group training, which can also help reduce the cost.
Like gyms, online training ranges in cost depending on your goals and what type of services you need. 
But for the amount of attention you get, online training can be just as intensive as a personal trainer. Remote fitness coaches and online training can be a more budget-friendly option that gives you a lot more bang for your buck. Plus, there are tons of free resources online.
If you prefer to exercise at home, online training is more affordable than going to a gym.
9. Skip the Gym if You Don't Want a Commitment
The thing most people (including myself) don't like about traditional gyms is that you often need to sign a contract to become a member. Then once you sign on the dotted line and decide to stop going, you're still required to pay the monthly fee. And that's a waste of money. 
Most online training apps and platforms are month-to-month and require no long-term commitment or contract.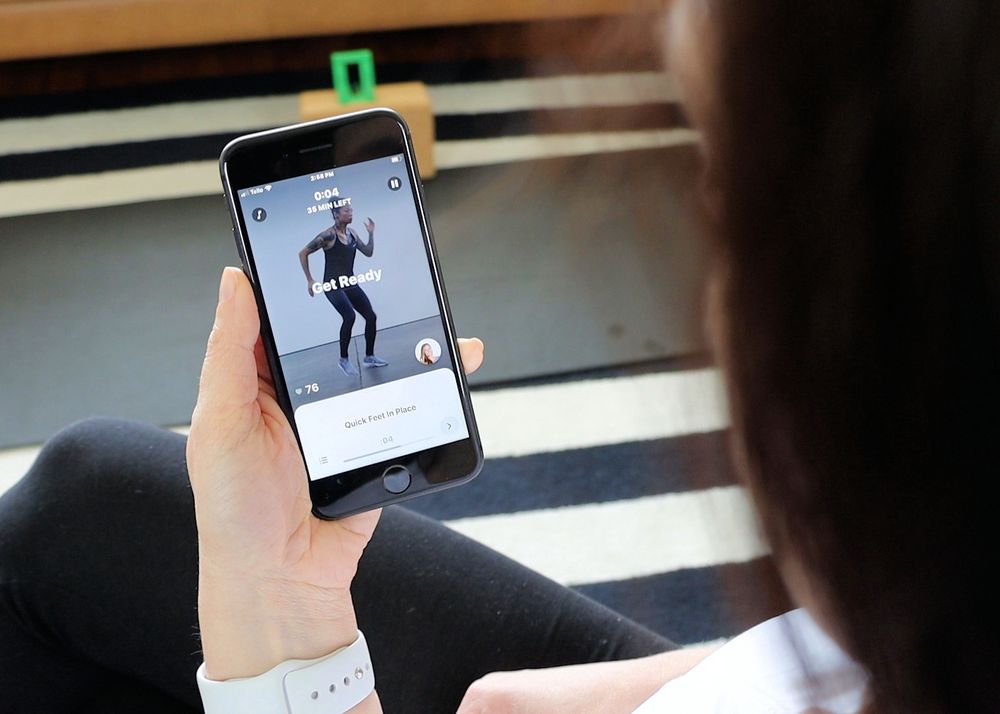 10. Remote Personal Training Can Help You Make the Most of Your Gym Membership.
Do you love your gym and don't want to give it up? You can still enjoy online training and get the best of both worlds. 
Remote personal training can help you stay motivated and use your gym time well. You can also learn how to use the gym equipment safely and effectively through your online fitness coach. This is a great option for you if you like to work out by yourself but need some guidance and a plan for your exercise.
11. Still Don't Know Where to Start? Try Future Remote Personal Training for Custom Workouts + Daily Accountability
Whether you prefer the gym or working out at home, most of us need help staying motivated to exercise. Research shows we're 90% more likely to reach our fitness goals if we have someone checking with us and making sure we're doing the workouts. 
That's why if you want to get in shape and finally see results, Future is our number one virtual training app choice for online training. 
With Future, once you get matched with your own personal fitness coach, they'll make a weekly workout plan designed around your fitness level and goals.
Then each day they'll message you to check in, get feedback about your workouts, listen to your frustrations and be there to guide you every step of your fitness journey.
➡ Read our full Future Review here.
Future is unique because:
A.) You get matched with elite-level certified personal fitness coaches.
B.) Fresh weekly routines are made each week and can be changed up at any time. 
C.) Perfect for working out at home, you don't need any special equipment. But you can use it at the gym too.
D.)  Your Future coach will check in and message you every day to keep you motivated to exercise, eat healthy or give fitness advice. 
E.) Do it anytime or anywhere. 
With Future it's like having a friend who can help you whenever you need with fitness and nutrition advice while keeping it fun. And their coaches have a wide range of specialties (training with injuries, prenatal/postpartum fitness, weight loss, etc.). 
Having the done-for-you workouts can take the stress out of getting back in shape and help you build your exercise confidence. 
And having another person to hold us accountable that can motivate us to stop the excuses so we stick with a routine is major.
No matter where you workout with consistency, you'll see results.
Where to find it?

 
Future is available for both Apple and Android devices. 
Final Thoughts
Both traditional and virtual gyms have their advantages and disadvantages. Choosing one or the other will ultimately depend on your personal preferences and lifestyle. You may prefer the facilities and social dynamic of a traditional gym, while others prefer the ultimate training and cost flexibility of online training.
If you're not sure how to workout, try an app like Future and have a professional fitness coach make you a custom workout plan that will work for your fitness level, goals and lifestyle.
Please note that before starting any new exercise program, it's important to consult your doctor or a qualified fitness professional.
Want To Get Fit? Try Future For Yourself!
💡 Limited Time Deal ➡ As a Better Living reader,  join Future today and your 1st month is 50% OFF!
Plus, Future offers a 30-day risk-free trial.
So, go pick your coach to start your fitness journey today!