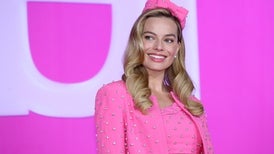 Pack your things: we're moving into Barbie's Dreamhouse.
The summer blockbuster movie Barbie premieres in theaters today, and director Greta Gerwig has created a visual sensation. The film's signature vibrant aesthetic—fans refer to it as "Barbiecore"—has become a pop culture phenomenon, drenching the world in its dazzling, candy-bright color: hot pink. People are flocking to the iconic Mattel doll's paraphernalia, including a real-life Barbie Dreamhouse replica in Malibu, Calif., that popped up on Airbnb.
But the perfect pink abode in the film poses real scientific questions about how our eyes and brain perceive color. Imagine if Barbie was a real person growing up in that house. What would it be like to actually live in a monochromatic pink world? Would it be as pleasing on the eyes as the movie and the franchise's branding suggest?
Probably not, says Anya Hurlbert, a neuroscientist at Newcastle University in England. "It's not a shitty world just because everything's pink," she explains. "It's a shitty world because there's only one color. If we made an all-blue world, we would feel similar about it."
After a lifetime doused in pink, a real-life Barbie would likely be entirely desensitized to the color. Eventually we would, too, says Mike Webster, a psychologist at the University of Nevada, Reno.
"We only see it as striking because it's different from the world we live in—but it's not striking to someone living in that world," Webster says. If Barbie was exposed to a single color her whole life, she wouldn't necessarily register the world as pink but would instead likely see it as gray or neutral, he adds. "If she looked at our world, she'd be overwhelmed," Webster says.
Color helps the brain process visual stimuli and sift through information in the world. The various shades and tones can differentiate objects and boost memory. Research suggests the brain devotes as much space to processing color as it does to recognizing faces.
The organ has a tall task in processing vision. To create a cohesive world, it juggles two things: the color of the object you're looking at, such as a house or a car, and the ambient light around you, such as sunlight. The object and light both have color, and they interact to produce the kaleidoscope of hues that we see.
"Everyone just sort of takes their vision for granted. They miss the wonder of how incredible it is that we can interpret this tiny pattern of light that's falling in our eye and make so much sense out of it," Webster says.
Colors are neither static nor objective, however. Your brain is always adapting. When trying to understand what Barbie would see while growing up in an all-pink world, we can look to Mars—the Red Planet. According to Webster's research, if a person grew up on Earth and moved to Mars, their vision would quickly shift from a menagerie of reds and oranges to include more blues as their brain adjusted.
And it's unlikely that a person would even notice this shift. Adapting to color is similar to adapting to the temperature of water in a hot tub; eventually the body acclimates to the heat, and it fades into the background.
"The whole brain is just built to see change," Webster says. "I think for Barbie, living in her pink world, she would have the same experience that you and I have living in our [neutral] world. But because we live in [our] world, the pink world looks really amazing to us—and because she lives in a pink world, she would find our world really greenish, the opposite of pink."
Humans undergo a similar adaptation process without realizing it. The lenses in our eyes turn yellow with age because of damage from the sun's ultraviolet rays. This is evident in the later work of artist Claude Monet, who was diagnosed with age-related cataracts that caused him to paint a yellow cast over his art. His later paintings also incorporated more reds and browns, according to some experts.
Color perception is also influenced by culture—various cultural groups and languages describe hues in very different spectrums. Perceptive differences can even be nuanced from person to person: For example, does "red" look the same to you as the "red" I see? Scientists don't know. But many experts say it doesn't matter as long as people consistently apply the concept of the color to the same objects, Webster says.
"In neuroscience, we can measure whether the brain is active. But we have no way of knowing what color you actually are seeing," he says. "Barbie's pink might look green to Ken in his head. We don't know, [and] as long as they're both using the same words to describe it, we would never know."
Whatever "pink" means to Barbie, research does show that a fully monochromatic life would be quite drab. In a 2019 Nature Communications study, researchers used a low-pressure sodium light to cast a yellow tint on an entire room. Participants in the room described all the objects presented to them as some kind of yellow. Color ceases to have much meaning in that context, says the study's senior author Bevil Conway, an artist and a neuroscientist at the National Eye Institute and the National Institute of Mental Health. Retinas need different wavelengths to capture color information, and in the sodium light's single wavelength, people struggled to differentiate colors. The only objects that had a distinguishable color amid the yellow hue were photographs of human faces—which appeared to participants as a sickly green. It's unclear why the faces looked that way when, under normal light, they were not actually green at all, Conway says. He suggests the brain remembers what faces normally look like and modulates the color—a clear sign that cognition influences perception.
It is unlikely that a real-life Barbie living in the Dreamhouse would have a similar experience to the study participants in the yellow-lit room. But that monochromatic experiment helps illustrate the subjective nature of color and the fact that living in an all-pink world may not be as much fun as watching one on the screen, Conway says.
The idea of Barbie's life in pink may seem magical, "but you ironically don't get that experience by being immersed in a pink world," he says. "And that is the conundrum of visual neuroscience, which is this disconnect between the stuff that hits your retina and what the brain does with that stuff."
While it goes to an extreme, Barbie's world and the visual branding of the franchise demonstrate the importance of color and the way it helps people physically and culturally navigate through the world. "Color is something much more than just a visual cue as to whether or not something is right. It's much deeper," Conway says. "It's about identity. It's about understanding ourselves and our place in the world and understanding our relationship to the stuff in the world."
The Barbie movie and the explosion of Barbiecore might already be impacting our relationship with the color. Pink is not a naturally occurring light wavelength, but the film's promotion has pushed it everywhere—rugs, Crocs, frozen yogurt, video game consoles, billboards.
Maybe we're living in the pink Dreamhouse already.