As much as I love summer, I can't say I'm loving the record-breaking heat waves in Texas this year. If you're nowhere near a lake, beach, or pool (even kiddie pools suffice!), you're probably asking yourself the same question: what to do on a hot day? Coming up with the ideas that see you braving the world beyond air conditioning can be a major struggle. Since I don't function very well in this level of heat and humidity, I've even found myself typing "brain slowing down in heat" into Google. Desperately. I was a little relieved to find out it's a real thing. 
If you're anything like me, you might feel stuck between wanting to make the most of these fleeting summer days and not being able to step outside without being coated in sweat. So, until the fall chill settles in a few months from now, I'm doing my best to make nice with triple-digit temperatures and lots of time indoors. If you're also looking for fun things to do on a hot day, welcome. You've come to the right place.
Featured image by Michelle Nash.
What to Do on a Hot Day: 32 Ideas
Say it with me: just because it's too hot to go outside doesn't mean I'm going to squander the summer. I've rounded up a list of creative, tasty, relaxing, and productive things to do on a hot day that I can turn to every time I feel boredom starting to get the best of me. Whether you spend your ideal summer day on the water or you've come here wondering what to do on a hot day inside, I have ideas for us all.
From making homemade popsicles to giving yourself a facial massage, consider this list your go-to for boredom-busting, memory-making ideas that'll keep you busy through Labor Day—and beyond.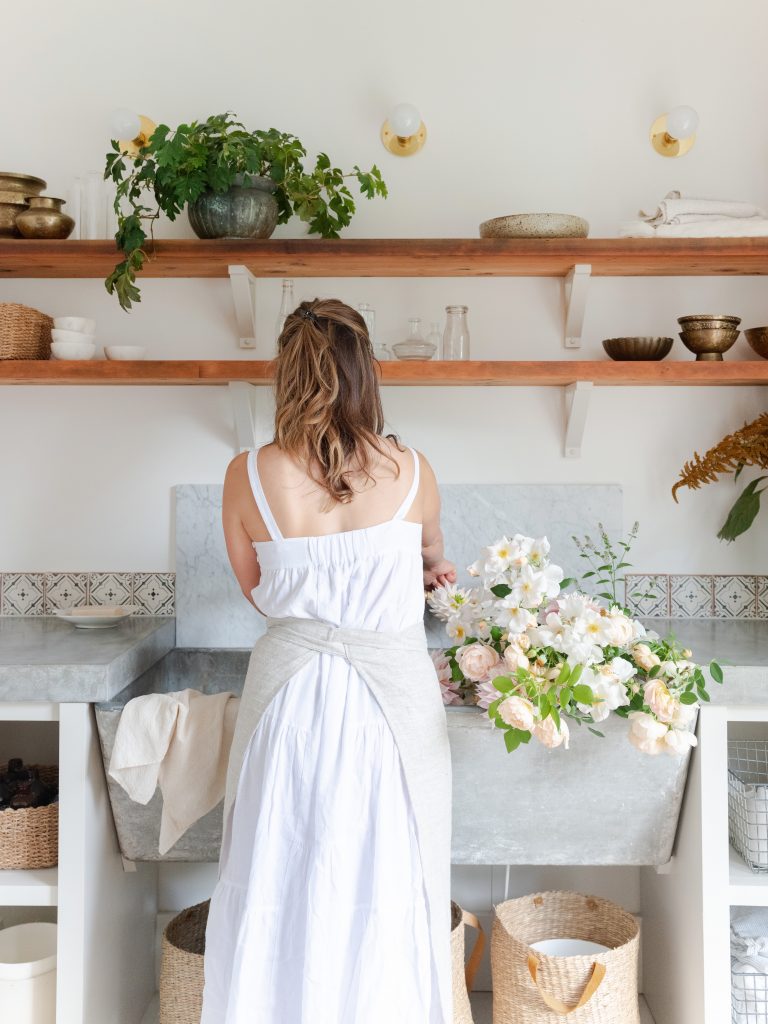 Creative Things to Do on a Hot Day
1. Build the ultimate summer playlist. Combine all of the songs that make you happy, old and new, into one perfect playlist. That way, you'll have something cued up and ready to go for pool days, beach walks, al fresco dinners, and one-person dance parties. Or, take inspiration from our summer playlist. 
2. Discover your enneagram type. Find out how your personality can teach you more about yourself, others, and how you interact. But remember, you're more than just your type!
3. Design your own flower arrangements. Since it's too hot to go outside, bring nature indoors with a bundle of affordable flowers from Trader Joe's. Listen to some music (see tip #1) and design an arrangement for each room of the house. 
4. Give your home a fresh look for free. If the heat is going to keep you inside, you might as well make sure you feel right at home. Check out these seven styling tips to create a whole new look without spending a single penny.
5. Write a letter. One of the things I miss most about summer camp is putting pen to paper and updating friends and family on my many adventures. Break out your stationery and say hi to a friend, loved one, kid/niece/nephew at camp, or just leave a note on your partner's pillow. 
6. Break out the board games. Embrace some friendly competition with a good old-fashioned game night. Check out our list of approved boredom-busting board games. 
7. Find inspiration on YouTube. The platform is a treasure trove of ideas to update your home or wardrobe, try out a new beauty routine, experiment with interesting recipes, or learn productivity tips to completely shift your day. Wondering where to start? The Camille Styles YouTube channel is our obvious fave.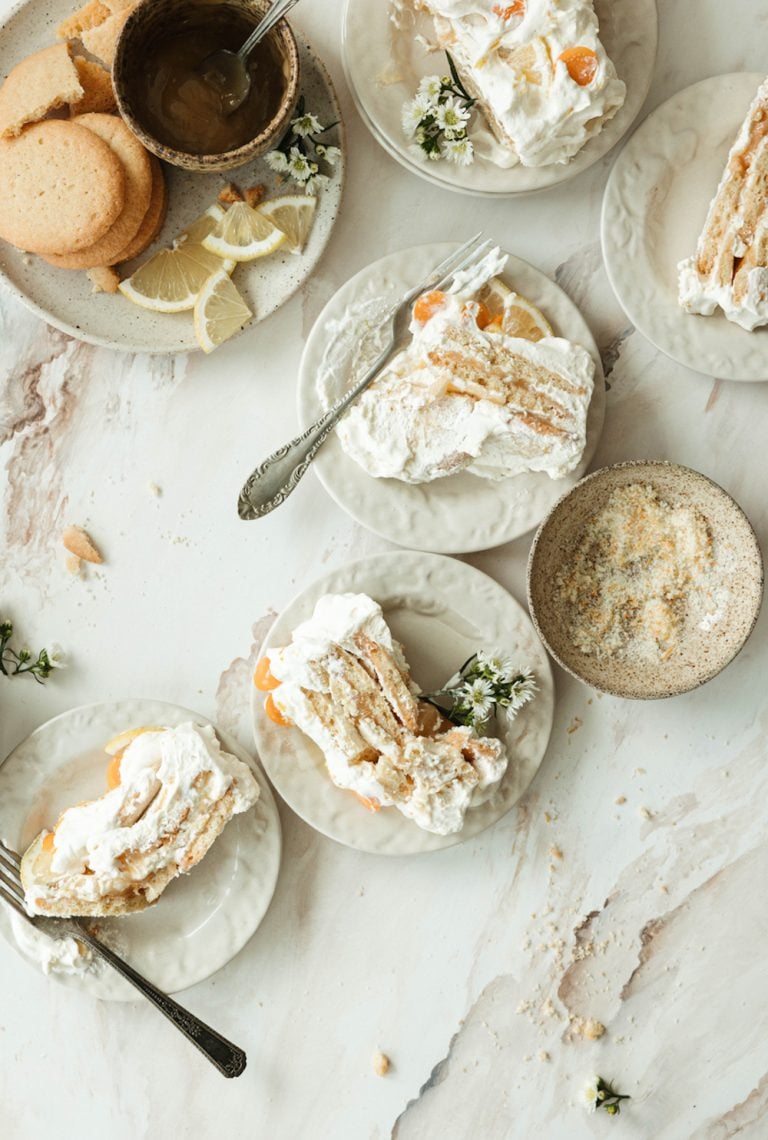 Tasty Things to Do on a Hot Day
8. Make your own ice cream. If you've never made homemade ice cream before, you're missing out. I scream, you scream, we all scream for these healthier homemade ice cream recipes that you have to try this summer. 
9. Use up your summer fruit in a cobbler. While chocolate is welcome every other month of the year, I'm of the opinion that all summer desserts need fruit. Try one (or all) of these cobbler, crisp, or crumble recipes and let us know which one is your favorite. If you're feeling ambitious, top your culinary creation with a scoop of homemade ice cream, too. 
10. Create a swoon-worthy snack spread for dinner. For when it's too hot to even go to the grocery store, turn to Camille's tried-and-true "snacks for dinner" formula. It's festive, delicious, totally customizable, and requires little-to-no cooking. AKA, perfect for lazy summer evenings. 
11. Host a make-your-own-pizza party. Does anyone else's family struggle to land on a dinner idea that'll satisfy everyone's taste buds? Growing up, we all liked different things, so make-your-own pizza night was a real crowd-pleaser. Plus, it's just FUN. Get creative with your topping combos or try out Camille's current fav.   
12. Build a dinner menu using only summer ingredients. One of the best parts of summer is undoubtedly the produce. Check out what fruits and veg are in season and try our favorite summer recipes.
13. Make homemade popsicles. There's nothing like a popsicle to help you beat the heat. Get creative by making your own popsicles in these popsicle molds, or try out our Mango Lassi Popsicle recipe if you need inspiration. You can also simply add your favorite fruit juice for an easy summer treat. Throwing an adults-only party? Try one of these boozy popsicle recipes instead. 
14. Have an indoor picnic. Pull out your favorite picnic blanket, light some candles, and create a dreamy indoor picnic in your living room. This is the ideal setting to enjoy one of these picnic-perfect recipes. Skip the heat and the bugs, keep the fun and the food.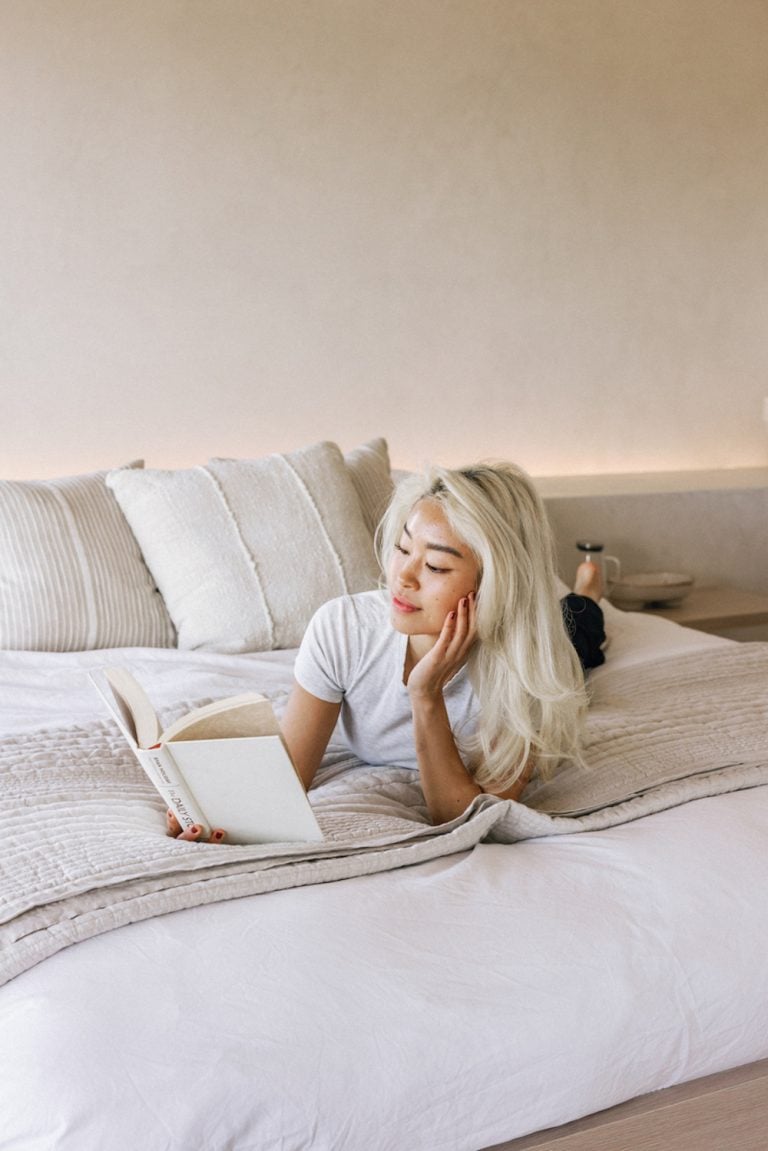 Relaxing Things To Do on a Hot Day
15. Have a 90s movie night. Because we all need to watch The Parent Trap at least once a summer. Design your ideal movie marathon with our go-to 90s must-watch list. Don't forget the popcorn!
16. Treat yourself to a spa-worthy facial at home. Give your skin a break from sunburns and sweat with this five-step facial from Camille's esthetician. Both your skin and your mind will thank you. 
17. Create an at-home meditation space and get your zen on. One of my summer goals is to finally master meditation, starting with carving out a meditation spot in my home. This meditation helps to take me from the hot and humid Texas summer days to cool and breezy California vibes. Well, in my head at least.   
18. Take a power nap. Sometimes the best way to beat the heat is to sleep through it. We tend to forget that while summer is all about fun, it's about rest, too! Make the most of your beauty sleep with these products. 
19. Learn the art of facial massage. Did you know that giving yourself regular facial massages can have anti-aging benefits, relieve stress, and make your skin glow from within? Find out exactly how to do an at-home facial massage and try it for yourself.
20. Pick up that book you've been dying to read. Curl up on the couch in your favorite breezy lounge clothes and immerse yourself in a good book. Need a book rec? Check out our editors' favorite fiction novels for the perfect summer escape. Is there any better way to spend a hot summer Sunday?
Productive Things To Do on a Hot Day
21. Clean out your closet. Take advantage of your time inside and get organized. Summer is the perfect season for getting rid of clothes you don't want or need and moving your winter wardrobe into storage. Because we could all use more space for our sundresses and swimsuits. 
22. Get your groove on with a cardio dance workout video. In Texas, it's so hot that working out outside is dangerous, so I turn to my favorite workout videos to stay active. My personal favorite? A fun and sassy cardio dance class. Learn more about dance cardio workouts and get ready to groove.
23. Start an indoor herb garden. Nothing pairs better with summer dinners than fresh herbs, and why buy them when you can grow them? If you don't have outdoor space or if it's too hot to garden, check out the best indoor herb garden systems.
24. Make a vision board. Tony Robbins has famously said that "energy flows where attention goes." I, for one, love the opportunity to get serious about visualizing my goals. Tap into your creative side and learn how to make a vision board.
25. Connect with your mind and body through yoga. Current research shows that a consistent yoga practice supports positive long-term changes in brain health. Reap both the physical and mental benefits of yoga by trying out these 10 stress-relieving yoga poses in your house. If you want more, check out these five facial yoga exercises to give your skin that lit-from-within glow.
26. Kick back and dive into a new podcast. Whether you're looking for podcasts that will lift you up, motivate you, help you in your career, or guide you through parenting, we've got you covered. Use this time inside to learn something new about yourself, your life, and the world around you.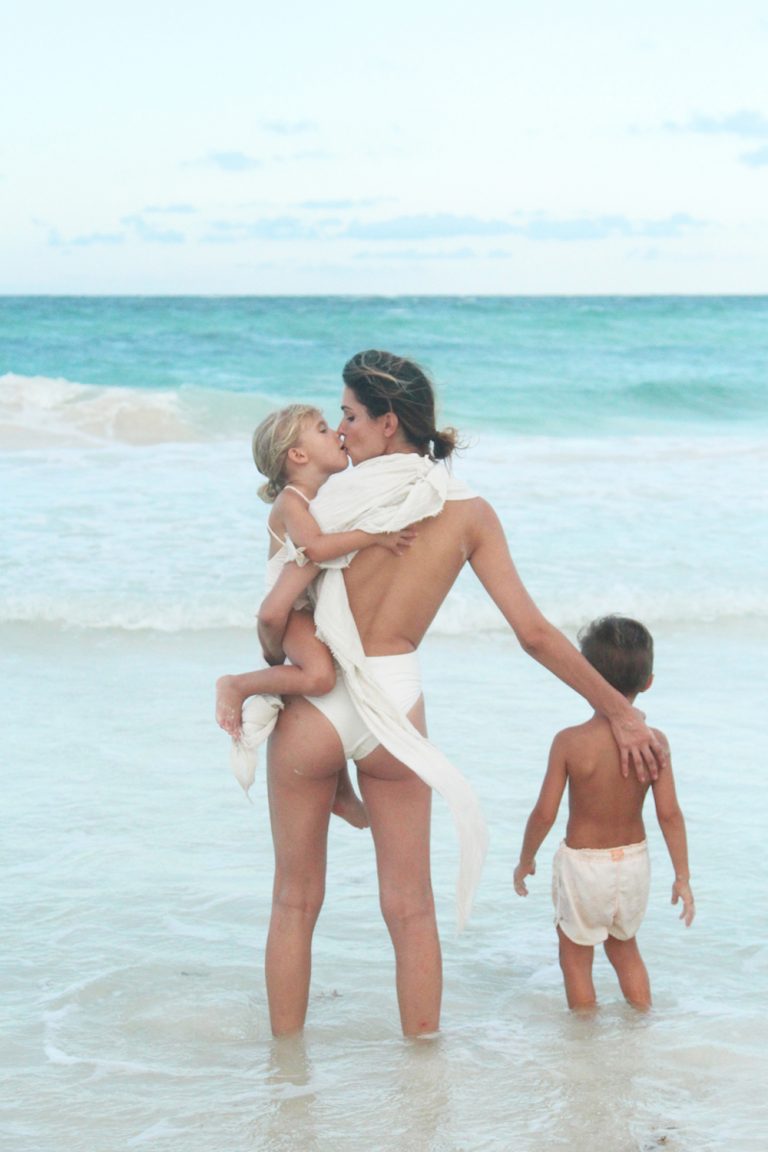 Things to Do on a Hot Day With Kids
27. Visit a skating rink. Typically reserved for the wintertime, there's hardly a better way to cool off than going straight to the source itself. Gather the fam and get ready for a good time.
28. Support local movie theaters. While big movie theater chains are sure to be showing all the big summer blockbusters, there's nothing better than the small cinema experience. Oftentimes, these local theaters have quirky seating and couches that are fun to cozy up in. And of course, AC!
29. Have a water balloon fight. Fill up a bunch of water balloons in the backyard with your hose. Break out into teams and have at it! This was one of my favorite things to do in the hot weather as a kid and it definitely still holds.
30. Go to a baseball game. While this may not be your go-to on a super steamy hot summer day, if the temps drop just enough, it's one of the best ways to spend the day as a whole family. If you can, try to find seats in the shade.
31. Set up an obstacle course. If the summer heat just isn't going away, design an obstacle course for your kids indoors. Use what you have like pillows, couch cushions—anything! It's one of the most fun and creative indoor activities you can do on a hot day. Alternatively, you can set up a scavenger hunt. Trust me: the kiddos will have a blast.
32. Make hot dogs over the fire. Once the heat wave has let up a bit in the evening, take advantage of the slightly cooler temps and cook dinner outside. Bonus points for following the meal up with s'mores.
This post was originally published on July 7, 2022, and has since been updated.