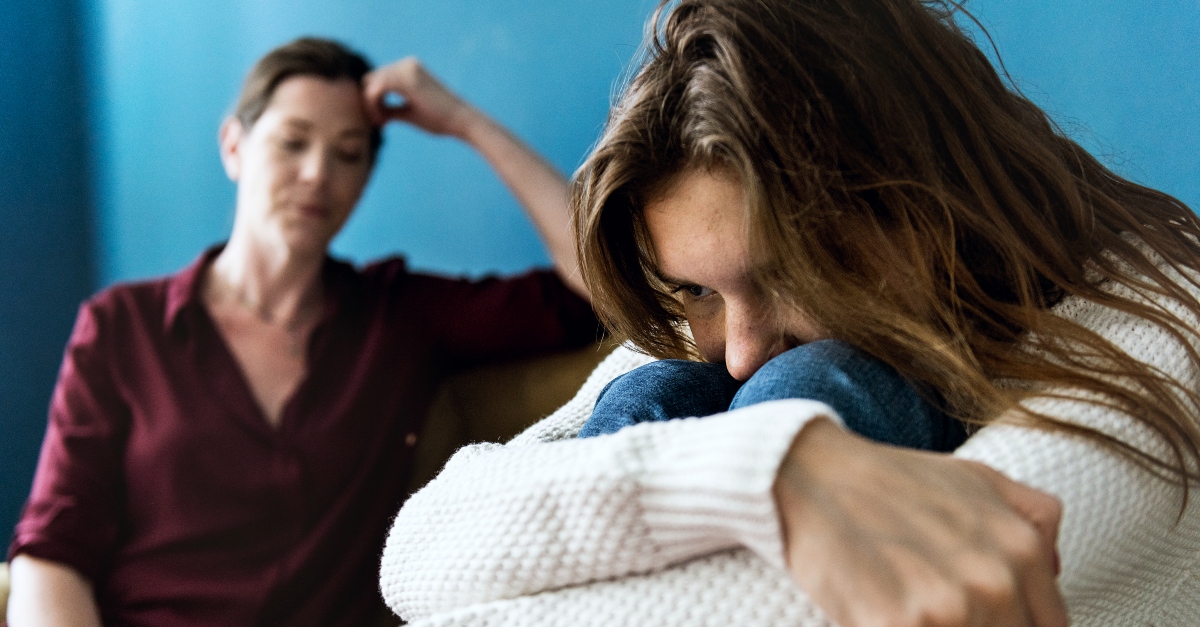 No sooner had the words come out of my mouth did I regret them. I knew immediately that I had messed up. As I glanced over at my friend, her eyes darted away. 
Everything was fine literally three seconds ago, and now I'm at risk of losing a cherished friend all because of one careless comment. 
Caught up in the moment, I didn't consider how it would make her feel. I was being self-centered, and I disrespected her boundaries.
Have you ever done or said something that you regret? You wish you could take it back, but what's done is done. Whether intentional or not, how it is perceived is all that matters. 
It always seems that when I'm not paying attention, someone I care about inevitably gets caught in the direct line of fire of my careless words or actions. 
This is an area that I have personally struggled with for a long time. To be honest, I feel like no matter how hard I try to be a good wife, friend, mom, or person, I find that I still mess up—a lot. 
I'm quick to see where I went wrong and am instantly filled with regret and remorse. Yet, what takes only seconds to destroy may take days, months, or even a lifetime to repair. 
Even though I apologize and do my best to fix the problem, things still don't feel quite right. That's when fear, doubt, and questions flood my mind:
What if time doesn't actually heal all wounds?

What if they never get over it? 

What if they hold this against me forever?

What if they bring it up over and over again and never let me live it down?
And when I can't seem to get the answers I want, I start to grow upset and anxious. 
I'm embarrassed to admit that I have actually found myself getting angry at the person who is upset with me because they won't get over how I hurt them. In my impatience, I just want to move past this moment and on to better days. Selfishly, I get frustrated that things aren't moving as quickly as I'd like.
In my effort to understand how best to cope with others when a sincere apology just isn't enough, I've come to the conclusion that there must be a solution besides just throwing my hands up in despair. 
The truth is this: we live in a world full of imperfect people, full of selfishness, jealousy, rage, discontentment, and pride (Galatians 5:19-21). Because of this, when we feel like we've been wronged by another, it can be nearly impossible to get over it. Depending on the state of our heart, we may never (Proverbs 14:30). 
Oftentimes, these hurt feelings are rooted in past trauma that can cause feelings of inadequacy or low self-esteem. Simply put, humans are highly sensitive individuals that get hurt easily yet heal ever so slowly.
It's important that we make an effort to have empathy for others that struggle in these areas, and it's part of what being a good friend is all about (Ephesians 4:32). 
As Christians, we are called to a higher standard: to forgive seventy-seven times (Matthew 18:21-22), to take the log out of our eye before calling attention to the splinter in our friend's eye (Luke 6:41), to only throw stones if we ourselves are without sin (John 8:7), to turn the other cheek (Matthew 5:39), to love with patience (1 Corinthians 13:4), and, as much as possible, to live peaceably with others (Romans 12:18). 
If you have unintentionally hurt someone, it's time to act and speak intentionally by letting them know:
The last thing I want is for my carelessness to destroy a meaningful relationship. 
Once you have said your peace, you must wait; and even though we have absolutely no control over the response of the person we have hurt or the timeline in which they heal and recover, there are still three things I believe we can and should do:
1. Relinquish Control
For some of us, relinquishing control may be one of the hardest things to do, but is often the first step toward healing. 
In 1 Corinthians 13:5 (ESV), Paul points out that love "does not insist on its own way;" instead, you must give up on the way you think it ought to go. 
Trying to manipulate the situation in hopes of expediting the repair of the severed relationship may actually make things worse and delay the healing process. 
It's best to just let go and give them the space they need to process what happened, how they feel about it, and how they plan to proceed. 
Don't try to micromanage their recovery. Take a few steps back, and allow whatever time it takes.
Instead of trying to control the situation, try to focus on God and your own actions, surrendering the outcome to him (Psalm 37:5).
Act Normal
Don't go on as if things have to now be different, especially if they've already said they accept your apology. 
"Above all, keep loving one another earnestly, since love covers a multitude of sins." 1 Peter 4:8 ESV
When we act differently, it only makes things more awkward.
While you don't want to be insensitive to the circumstances that you caused, you also don't want to read into anything that may not be there. Trust me, try not to read between the lines. I tend to be a "face value" kind of person, which leads to a less stressful life. 
Over time, the weirdness will fall away, and before long, things will start to feel like they used to before you inadvertently hurt your relationship.
2. Pray
Pray because it's always the right thing to do in all situations (Philippians 4:6, 1 Thessalonians 5:17). Prayer changes things. Prayer has the power to heal hurts and make broken hearts whole again (1 John 5:14).
Pray because not only are we supposed to pray for our fellow believers (1 Thessalonians 5:25), but we are even commanded to pray for our enemies (Matthew 5:44), which, I believe, implies we are also to pray for everyone in between (1 Timothy 2:1-2). 
"Therefore, confess your sins to one another and pray for one another, that you may be healed. The prayer of a righteous person has great power as it is working." James 5:16 ESV
As you draw near to God in this circumstance, pray your friend will do the same (Hebrews 4:16).
God is faithful and just to forgive us from all unrighteousness (1 John 1:9). He takes bad circumstances and works them for good (Romans 8:28).
3. Then Wait Patiently
While you're waiting for healing from your unintentionally induced trauma, find inner peace from the Holy Spirit that dwells in you (Philippians 4:7, John 14:27). If you've realized and acknowledged your mistake, offered a sincere apology, and made the necessary adjustments in your life to try to keep this from happening again, there's not much more you can do, except patiently wait (Galatians 6:9). 
"With all humility and gentleness, with patience, bearing with one another in love, eager to maintain the unity of the Spirit in the bond of peace." Ephesians 4:2-3 ESV
Whatever you do, do not allow guilt and shame to take up residence in your heart. Remember, God looks at the intentions of the heart (1 Samuel 16:7), and if your intentions are pure, you have absolutely nothing to be ashamed of (Isaiah 50:7). Continue to move forward in his love and grace, and pray for God to work and move in their heart. 
Do your best to imitate Christ in your relationships (1 Corinthians 11:1). Thanks to this broken world we live in, it's impossible to get along with everyone all the time. Continue to hold yourself to a Christlike standard, and extend grace and patience to everyone around you. 
Photo Credit: ©iStock/Getty Images Plus/Rawpixel
Jennifer Jabbour resides in the scenic San Diego countryside with her husband, teenage son and daughter, and their hilarious English Bulldog. Jennifer has a B.A. in Integrated Business Communications and a life-long desire to share her faith with others so they can also experience the joy of having a relationship with God. She has finally decided it's time to go after her lifelong dream of writing and publishing her first book, and hopefully many, many more thereafter. Besides being a writer, Jennifer is also a brown belt in Brazilian Jiu Jitsu, a photographer, and an avid outdoors-woman. She loves camping, hiking, running, and playing the piano in her free time. 
You can keep up with Jennifer on her website https://www.jenniferjabbour.com.